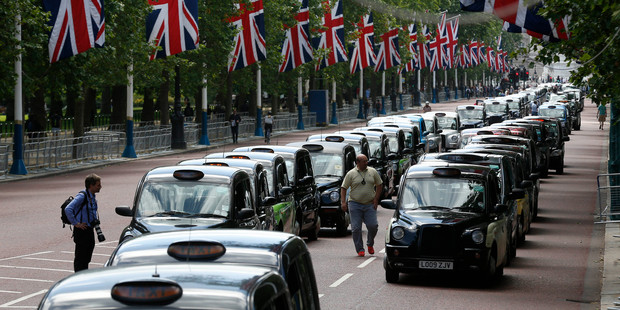 Commuters in central London faced gridlock today after taxi drivers staged a major protest over the introduction of cut-price fare app Uber.
Black cab drivers and licensed taxis converged at Trafalgar Square for the go-slow protest to show their opposition to Uber, an app which allows customers to book and track vehicles.
It was one of a number of protests to take part across Europe as licensed drivers opposed the app, which they claim is putting them out of business and encouraging unlicensed drivers to operate with no checks on their legitimacy.
Despite the protests, the technology firm behind Uber confirmed a surge in downloads for the app, with a week-on-week increase of 850 per cent.
It also today launched a new black cab booking feature called UberTaxi in a bid to placate drivers.
As well as London, demonstrations and strikes also occurred in other major European cities including Paris, Berlin, Rome and Madrid as international drivers protested against the introduction of the Uber app.
In response to today's outcry, Uber confirmed it would add a new section to its app - called UberTaxi - as a compromise with cab drivers.
Roads around Trafalgar Square were closed to non-taxis and traffic lined nearby streets around the area during the hour-long demonstration this afternoon.
Protesters chanted 'Boris, Boris, Boris, out, out, out', while taxi drivers beeped their horns and others held large placards.
Many motorists chose to sit on the pavements as they waited for the protest to end.
London Mayor Boris Johnson said he understood the concerns of taxi drivers but added that the issue should be resolved in the courts, where Transport for London is planning a case.
He said London's black cab trade was crucial to the fabric of the city, adding: 'The hackney carriage is iconic, and it is absolutely right that our cabbies are properly protected.
'Indeed it is enshrined in law that only black cab drivers have the right to be hailed from the street, and that principle, the bedrock on which our black cabs operate, will never change.
'Black cab drivers are the face of London not just for Londoners but for millions of visitors to our city.
'There must be a place for new technology to work in harmony with the black cab, and we shouldn't unnecessarily restrict new ideas that are of genuine benefit to Londoners.
'Even so the recent emergence of a range of new apps has raised some important questions in relation the operation of the private hire and taxi trades.'
Scotland Yard had earlier tried to avoid travel chaos in central London by imposing conditions on the demonstration, including limiting it to an hour.
However, almost 30 minutes after the protest was due to end taxis still lined the roads around Charing Cross, beeping their horns continuously.
Police chief Inspector Joseph Stockoe said taxi drivers eventually moved on as requested and said the scene in Trafalgar Square returned to 'business as usual but with a knock-on effect'.
Police cars with sirens wailing and lights flashing arrived from The Mall and traffic moved aside to let an ambulance through shortly after 3.30pm.
Paul White, from the London taxi branch of the Rail and Maritime Transport union, said drivers wanted their rights protected in the face of what he called 'a threat to our right to ply for hire'.
'We want to go further than this protest today,' he said.
'We want Transport for London (TfL) to understand that we're concerned about the laws being upheld. And we want that right to ply for hire enshrined in law.'
Leon Daniels, TfL's surface transport managing director, said: 'The taxi protest lasted about an hour and was generally good-natured.'
What is Uber?
Uber is one of a number of apps people can use to book and pay for taxi journeys.
Launched in 2009 and currently in operation in more than 70 cities across 37 countries, the app makes cities more accessible for people by 'seamlessly connecting riders to drivers', according to the company website.
The app detects the GPS on a mobile device and finds the nearest available driver.
Users can track the vehicle, pay with their phone, and even split the fare with friends using a credit card system.
Its on-demand service means reservations can be booked over the phone and passengers don't have to wait in line at a taxi rank.
Users can compare rates for different vehicles and get specific fare quotes via the app, before paying for a booking using a debit card or PayPal.
It also allows users to track their driver once a cab has been ordered, so passengers know exactly what time they will be collected and if their taxi has been held up.
It rivals an app already on the market in the UK, called Hailo, which allows passengers to 'hail' a cab via their smartphone.
However black cab drivers are angry because they believe Uber effectively allows passengers to hail minicabs, which are supposed to be booked in advance.
If approved, it will allow users to book and pay for a traditional London black cab directly through the app and fare rates will be the same as those set out by authorities.
- Daily Mail