Chancellor defends German-backed presidential candidate after British leader expresses his concerns.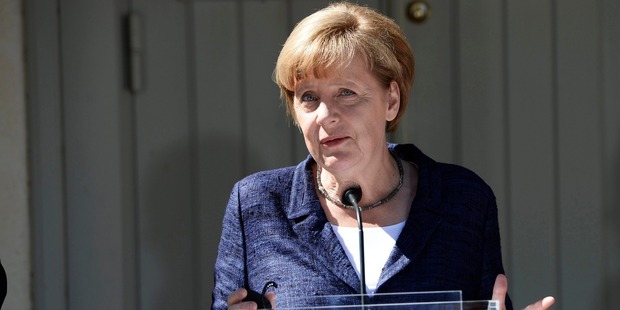 German Chancellor Angela Merkel has warned British Prime Minister David Cameron not to threaten her over the appointment of an arch-federalist as President of the European Commission.
Cameron has said that the appointment of Jean-Claude Juncker could make Britain more likely to leave the European Union in a referendum in 2017.
But Merkel said that "threats" went against the European spirit, as she gave her public support for Juncker.
Cameron said that if Europe fails to heed his calls to reform it will be "unhelpful" ahead of his pledged referendum on Britain's membership of the EU in 2017. He believes that the appointment of Juncker will damage his attempts to convince the British public that it should stay in the EU.
The Prime Minister also said he wants to stop foreigners from "free riding" and abusing Britain's welfare system.
The European leaders were speaking after a summit at the official residence in Sweden with Fredrik Reinfeldt, the Swedish Prime Minister, and Mark Rutte, the Dutch Prime Minister.
They discussed the need for the European Council to become more competitive and open to reform, as well as potential candidates for the post of President of the European Commission.
Responding to reports that Cameron had warned Britain could leave the EU over Juncker's appointment, Merkel said: "I made myself clear by saying that I am for Jean-Claude Juncker. But when I made that statement in Germany I also made the point that we act in a European spirit.
"We always do that. Otherwise we can't arrive at a compromise. We cannot just consign to the back-burner the question of European spirit.
"Threats are not part and parcel of that spirit, that's not how we usually proceed."
A source close to Downing Street suggested Merkel has private concerns about Juncker's appointment but has to show public support because of political pressure in Germany.
Cameron said that it was "plain and obvious" that if Europe fails to reform, Britain will be more likely to leave the EU.
- Telegraph Group
European Commission President: Leading candidates
Jean-Claude Juncker
Who: Former Prime Minister of Luxembourg
Born: in 1954 in Luxembourg.
Career: Became a member of the Luxembourg Chamber of Deputies for the Christian Social People's Party at 29. Prime Minister for 18 years, by the end of which he was the world's longest serving democratically elected head of government. Resigned last July after exposure of abuses by the secret service.
Personal drama: Spent two weeks in a coma in 1989 after a car crash. He is, allegedly, a boozer. Der Spiegel said in February that it was not uncommon to see him knock back two gin and tonics and a beer over lunch.
International status: Owed his position as PM to British stroppiness. In 1994, John Major objected when the Belgian PM, Jean-Luc Deheane, was nominated for the post of EC President, so the previous Luxembourg PM, Jacques Santer, got the job. He was a disaster.
Chances: Until the last few days, they were high. But fierce opposition from Cameron and wavering from Merkel, mean they have dwindled.
Helle Thorning-Schmidt
Who: Prime Minister of Denmark
Born: in 1966 in Rodovre, Denmark
Career: After graduating from the University of Copenhagen, she won a scholarship to the College of Europe in Bruges, Belgium. A Social Democrat MEP and later party leader in Denmark.
Personal drama: Admitted to a "big, sloppy error" when, as leader of the opposition, the Danish tax authorities investigated the discrepancy in her and her husband's tax affairs. The investigation was subsequently dropped. Once let rip at a fellow Social Democrat who called her "Gucci Helle" because of her love of designer handbags; has since said the nickname doesn't bother her.
International status: Denmark is not in the top flight of G8 nations but is a key member of the EU.
Chances: Her background makes her a natural choice and she has one year left of term as PM.
Dalia Grybauskaite
Who: President of Lithuania since 2009, re-elected last month.
Born: in 1956 in Vilnius, Lithuania.
Career: Student then lecturer in political sciences. Worked as an official in the foreign affairs department; later Finance Minister and EU Budget Commissioner.
Personal drama: A black belt in karate and known as Lithuania's Iron Lady, she vowed to "take a gun myself to defend the country" against Russian aggression in the wake of the break-up of Ukraine. Known for her ability to steer clear of scandal.
International status: A staunch supporter of Ukraine's new President, Grybauskaite is respected in Europe and knows Brussels inside out. Close to Merkel.
Chances: Fair. Despite just being re-elected President, she could emerge as the consensus candidate between Merkel and Cameron.
- Independent