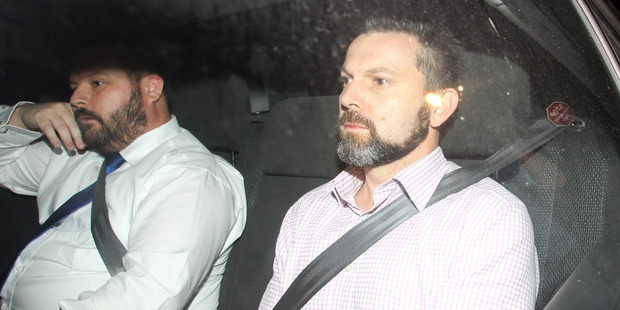 In a case that has gripped Australia, former real estate agent Gerard Baden-Clay, a great-grandson of Scout movement founder Lord Robert Baden-Powell, yesterday pleaded not guilty to the murder of his wife, Allison.
The secret life of the glamorous and successful couple from the upmarket Brisbane suburb of Brookfield will be scrutinised for the next month in the city's Supreme Court in a trial expected to involve more than 70 witnesses.
Baden-Clay, 43, is accused of killing his 43-year-old wife for money and love and dumping her body in nearby Kholo Creek, where it lay undiscovered for 10 days.
The disappearance of the mother of three young daughters on April 20, 2012, grabbed headlines, focusing heavily on the grief of Baden-Clay as he waited for news.
"We just hope that she will come home soon," he told one TV interviewer.
"I'm trying to look after my children at the moment, I've got three young girls and we really trust that the police are doing everything they can to find my wife."
But after his arrest and a preliminary hearing, new headlines revealed a long-standing affair with a former employee, and Baden-Clay's promise to her to divorce his wife, despite affairs with two other women.
Yesterday Supreme Court Justice John Byrne told jurors selected from an initial pool of 80 that they must dismiss from their minds anything they had previously read or heard about the case.
"You cannot take into account information from any other source other than what is presented at this trial," he said. "You are not detectives, you are judges of the facts."
Baden-Clay's parents, Elaine and Nigel Baden-Clay, sister Olivia and her husband sat immediately behind him in the court. They had earlier issued a statement saying they would not be commenting during the trial.
Allison's family, sitting a row further back, had also issued an emotional statement thanking the media for the respect, empathy and compassion they had shown during what had been the "most devastating period of our lives".
They also said they would not be giving interviews and asked the media not to photograph the three grandchildren now in their care.
"We hope you can imagine the ongoing impact of these events [on them]. It has been devastating and will be long lasting.
"Our primary concern remains their emotional and physical well-being. We are trying to help them rebuild their lives and ask for your support and co-operation in this."
The basis of the prosecution case was laid out during a preliminary hearing in February, which included evidence of Baden-Clay's affair with former employee Toni McHugh and details of two insurance policies on Allison Baden-Clay's life.
Prosecutor Dan Boyle alleged Baden-Clay murdered his wife because he stood to benefit by almost A$1 million ($1.1 million) upon her death and had promised McHugh he would leave his wife.
Baden-Clay denies the murder. He said he had fallen asleep after his wife went for a walk at 10.30pm and he had reported her missing the next morning when she had not returned.
The cause of death has not been determined, but during earlier hearings Baden-Clay's lawyers said a toxicology report found significant concentrations of the anti-depressant Zoloft, suggesting Allison Baden-Clay might have killed herself.
This was disputed during the preliminary hearing by Melbourne toxicologist Professor Olaf Drummer, who said the levels of the drug were not sufficient to have caused her death.
But Baden-Clay's barrister, Peter Davis, SC, described the prosecution case as weak and built upon circumstantial evidence.