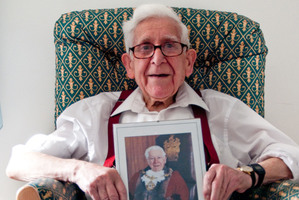 It was the D-Day adventure that captured the imagination of the country.
Determined to honour his comrades who fell in battle 70 years ago, Bernard Jordan slipped out of his care home in Sussex and went to northern France and the Normandy beaches where Western Europe's freedom was bought.
Yesterday the 89-year-old returned home to a hero's welcome. "I've had a great time, I'm really pleased I did it. All the men and the women who took part that day 70 years ago are heroes, especially the ones that never came home."
Jordan was greeted by cheering staff at the care home in Hove, East Sussex where he lives with his wife Irene, after catching the ferry back to Portsmouth from Ouistreham.
There his carers sang For He's a Jolly Good Fellow, as he gingerly made his way from his taxi, tired but proud.
Once inside, recovering from his exertions with a hearty breakfast, he regaled them with tales of his great escape.
As he did so, details emerged of his role during D-Day and the rest of World War II. As a 19-year-old junior officer in the Royal Navy, Jordan had been plunged into the thick of it on June 6, 1944. His ship was one of a flotilla of 6939 vessels assembled as part of the Allied plan to create a bridgehead to get thousands of troops and equipment into France.
Jordan had already taken part in the Battle of the Atlantic, which saw British ships engaged in a cat-and-mouse game with German u-boats to keep vital supply routes open from the United States. Peter Curtis, the chief executive of Gracewell Healthcare, which runs The Pines care home in Hove, said: "On one occasion, Bernie forced a u-boat submarine to the surface. He boarded it along with other men from his ship and captured one of the Enigma coding machines the Germans were using."
It is thought the capture of the machine helped Britain to break the secret signal codes being used by the German fleet.
Jordan's trip to take part in commemorations marking the 70th anniversary of the invasion almost never happened. He had been unable to get a place on a Royal British Legion coach heading to Normandy last week.
He pinned his campaign medals to his blazer and made his own way to Portsmouth in the hope of finding a lift across the Channel. In Portsmouth Jordan bumped into a group of fellow veterans, who accompanied him to the events. He said: "I want to thank everyone for their kind words and best wishes following my trip to Normandy. I never imagined it would cause such a stir."
On being told by staff he had made his way across the Channel, wife Irene said: "I'm not in the least bit surprised, but I shouldn't worry. He's been in worse scrapes than that."