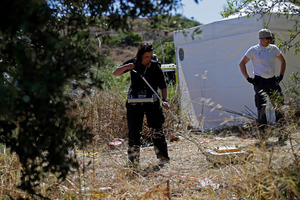 The search for Madeleine McCann is to move to scrubland around a water treatment plant where a prime suspect may have worked.
Portuguese police sources have revealed that British officers are due to start scouring the area near the resort of Praia da Luz on Wednesday.
A fingertip search of wasteland in the centre of Praia da Luz is due to be completed today.
Read more:
* Madeleine McCann: fingertip searches begin
* Madeleine McCann hunt: Scrubland search to begin
* Madeleine McCann hunt: Detectives banned from digs
Then they will turn their focus to two areas by a small water treatment sub-station, a derelict farmhouse and an abandoned well.
Heroin addict Euclides Monteiro was working at a water and sewage plant in Lagos, four miles from the Ocean Club in Praia da Luz where Madeleine was staying with her parents, Gerry and Kate.
Ex-colleagues of Monteiro, who was born in Cape Verde, have suggested that his duties included visiting other treatment plants in the area.
Monteiro used to work as a waiter at the Ocean Club but was sacked for stealing tips a year before Madeleine, then three, vanished in May 2007 - amid fears she had been abducted in a botched break-in by a thief looking for cash. He was signed off sick several days before she disappeared and did not return to work for two months.
Suspicions about him were heightened after analysis of his mobile phone data placed him near the apartment when Madeleine vanished.
Monteiro, who had served a jail term for burglary, died in a tractor accident, aged 40, in 2009. His widow Luisa has insisted he had nothing to do with Madeleine's disappearance.
The two new areas reportedly due to be searched are on a back road, half a mile from the Ocean Club. One is a ten-acre area of thick undergrowth.
It is believed that the sites were identified by British officers before they flew out to Portugal.
A Scotland Yard spokesman said: yesterday: 'We will not provide a running commentary on the progress of an investigation.'
- Mail on Sunday