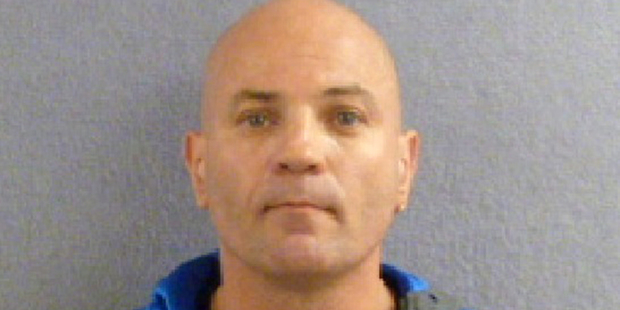 Four women have been released from the Adelaide building where dangerous fugitive Rodney Clavell is holed up.
Police believe Clavell, 46, is now the only person in the building in the city's CBD.
Superintendent Peter Harvey says police will speak the women, who were physically unharmed, and renewed his plea for Clavell to surrender peacefully.
The women had been through a traumatic experience, and police would take care of them, Supt Harvey said.
"You saw the last lady come out very distressed and we have to sympathise with them and work with them," he said.
"They're our best source of what happened inside."
He said it was very encouraging that the women had been released and police still wanted a peaceful end to the standoff.
"We have no intention, plan or desire to enter. We want to make contact and that's the plea again," he said. "Rodney, again if you're listening and you can think about what is happening here, the offer is open. Let's continue and come out and resolve this peacefully."
The women walked out around 2pm, NZT, with their arms in the air, and were whisked away by STAR Group police.
Gunman 'threatened to take police out'
Supt Harvey said authorities wanted to end the stand-off at Marilyn's Studio peacefully, even if took days. "We are here for the long haul. It can be an hour or it can be five days.
"The outcome is what we want and that's a safe resolution and Rodney is at the centre of that," Supt Harvey said as the siege dragged into its 10th hour.
"Our absolute commitment is to end this safely. The tactical option of going through a door is the last of our thoughts and absolutely not on our radar at the minute."
Supt Harvey would not comment directly on a report that a friend of Clavell's had said the fugitive had threatened to take police out.
She told the Adelaide Advertiser that she dropped Clavell off at the brothel and he was in possession of a .22 rifle and "at least 40 bullets".
"He thinks they have it in for him, he will take police out," she said. "He knows he won't survive this alive today."
Clavell's history of drugs and violence
Supt Harvey said Clavell, who a decade ago was involved in a shoot-out with police and has a history of drug use, was "probably not making rational decisions" after so many days on the run.
"We are very concerned that rational decision making gets harder for Rodney as time goes on," he said, adding Clavell's criminal past pointed to "a recipe for continued behaviour by Rodney which presents a danger".
"He's been involved in a siege before where he's been shot by police."
This afternoon police were still surrounding the building occupied by Clavell, who was believed to be armed with a rifle and a cache of ammunition.
Police earlier said Clavell, South Australia's most wanted man, was holed up with several "innocent" people in an escort agency in central Adelaide.
Police swooped on the building on King William Street after being tipped off that he was inside.
He is described by police as violent and dangerous, and has been on the run since May 22.
Clavell was with several people who police said could not leave, although they stopped short of describing them as hostages.
He was holed up at a business called Marilyn's Studio, an escort service. Police appealed for Clavell, who has had a history of violence and heavy drug use, to surrender amid fears the stand-off could escalate.
Police plea to gunman
Police urged Clavell to answer their phone calls and speak to them.
"Rodney, we know that you have concerns about your safety. The reality is we want to end this peacefully," Superintendent Peter Harvey said to Clavell this morning.
"I am here to make sure this ends peacefully.
"All we need is for you to speak to us and come out and everything can end safely...
"The people who are with you don't deserve to still be inside," Supt Harvey said.
Supt Harvey acknowledged Clavell's violent past but said he had served his time for that.
"It's nothing to do with today except to remind us of his propensity for violence.
"We have been aware for 14 days that he is armed, so we treat him at the highest level of risk. What you see today is unprecedented for Adelaide."
A warrant was issued for the 46-year-old former prison guard on May 20 in relation to firearm and other matters.
Clavell has a long criminal history, and in 2004 was the subject of a high-speed police chase through the Adelaide Hills and towards Mount Pleasant. He then commandeered a 12-tonne grader from a farm shed, and with a shotgun pointed at his own heart, lead police on a slow-speed chase during which he was shot in the thigh by an officer who he had attempted to run down.
A police sniper, standing 51 metres away, then stopped Clavell after shooting him in the shoulder.
Clavell served four years in jail.
A warrant was issued for the 46-year-old on May 22 for offences including breaching a firearms ban. Since then, police have conducted more than 80 raids, before a tip-off led them to the premises on King William St in the early hours of today.
- AAP / AP