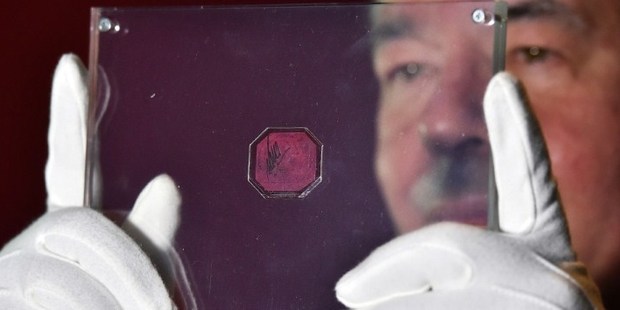 In 1873, Louis Vernon Vaughan did what countless 12-year-old boys have done before or since, by soaking a used stamp from an envelope and placing it in an album.
The difference was that the thoroughly unremarkable object of his philatelic fascination is now likely to become the most valuable man-made object on the planet.
Measuring barely an inch across, slightly grubby and featuring a faded image of a sailing ship, the British Guiana one-cent Magenta stamp was issued in 1856 and turned up when the young Scottish schoolboy was going through the papers of an uncle in the former colony.
Later this month, that same scrap of reddish octagonal paper is expected to sell for up to $20m (£12m) when it is auctioned in New York, making it not only the world's most valuable stamp but also, by weight, the most expensive object ever made.
The stamp went on display in London yesterday at the showroom of auctioneer Sotheby's after previously being exhibited in Hong Kong - the first time it has been seen in public for nearly 30 years.
Printed in British Guiana as an emergency stop-gap after a shipment of professionally produced stamps from London was delayed, the one-cent Magenta is regarded as the Holy Grail of the philatelic world.
One sole, heavily post-marked example of the stamp survives after a remarkable journey down the centuries which has seen it seized by France as part of Germany's reparations from the First World War and become the subject of at least one inheritance dispute.
It is now being offered for sale by the estate of John du Pont, the industrialist whose family founded the American chemicals company and an avid stamp collector who paid $935,000 for the stamp when it was last sold in 1980 - a world record at the time.
Mr du Pont was jailed for shooting dead an Olympic gold medal-winning wrestler in 1996 and died in 2010.
Experts now expect a new record to be set at the 17 June sale, comfortably surpassing the current highest price paid for a single stamp - a Swedish Treskilling Yellow which fetched 2,875,000 Swiss francs (about $2.2m) in 1996.
David Redden, director of special projects at Sotheby's, said the "British Guiana" was a stamp of almost mythical repute among philatelists. He said: "For me, as a school stamp collector, it was a magical object, the very definition of rarity and value, unobtainable rarity and extraordinary value.
"That schoolboy of long ago would be bemused and astonished to think that he would one day, years later, be temporary guardian of such a world treasure."
When administrators in British Guiana, now Guyana, in South America realised in 1856 that they were in danger of running out of stamps after an expected consignment failed to arrive, they turned to newspaper printers to produce an ad hoc supply. The resulting one-cent Magenta was printed in black on red paper with the sailing ship image and the colony's Latin motto - Damus Petimus Que Vicissim (We Give and Expect in Return).
Louis Vernon Vaughan, whose family had moved to the colony, discovered the only surviving example of the stamp 17 years later.
To fund the expansion of his collection, the schoolboy sold the stamp to another collector, Neil McKinnon, for six shillings.
McKinnon is reputed to have said: "Now look here, my lad, I am taking a great risk in paying so much for this stamp and I hope you will appreciate my generosity."
Fairly soon, a succession of owners, including French and Austrian aristocrats, would be paying ever-increasing sums for the stamp.
- Independent