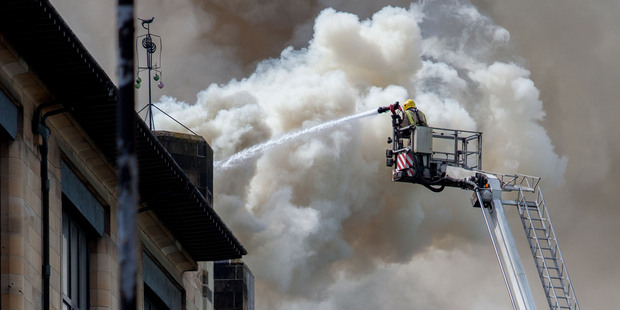 A blaze ripped through one of the world's top art schools yesterday, damaging a historic building designed by architect Charles Rennie Mackintosh.
All students and staff were safely evacuated from the Glasgow School of Art, officials said, after smoke and flames billowed from one of Scotland's most cherished buildings.
Several students were in tears as they watched the inferno rage through the century-old building.
The BBC cited eyewitnesses as saying the fire was started by a projector that exploded in the basement.
"The most important work by Charles Rennie Mackintosh, an architect of international significance, Glasgow School of Art, is held in the highest regard by architects and the public alike," the Royal Institute of British Architects said.
"It was rightly judged to be the best building of the past 175 years in a nationwide poll run by the RIBA.
"Damage to a building of such immense significance and uniqueness is an international tragedy."
The Scottish Fire and Rescue Service said the indications were that 90 per cent of the structure remained "viable". It added up to 70 per cent of the building's contents had been saved.
Glasgow-born architect and designer Mackintosh (1868-1928) was a leading exponent of art nouveau.
He won a competition to design the building in 1897 and it took about 10 years to complete but is now a landmark in the city, with special government-protected status.
The school's alumni include recent Turner Prize for art winners Simon Starling (2005), Richard Wright (2009) and Martin Boyce (2011).
Others include Doctor Who actor Peter Capaldi, Harry Potter and James Bond movie actor Robbie Coltrane, and members of Scottish rock bands Travis and Franz Ferdinand.
- AAP