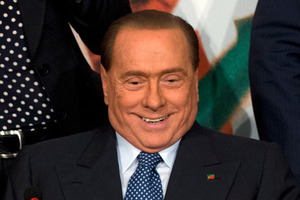 It was a clash that pitted one of the finest journalists of his generation against a now-disgraced former world leader, but this was no modern-day Frost-Nixon.
However, Italian ex-Premier Silvio Berlusconi's interview by the outgoing Newsnight presenter Jeremy Paxman will be memorable if only for one question. "Do you have a particular problem with Angela Merkel? Is it true you called her an unf***able lard-arse?" asked Paxman, clearly determined to make his final month at the helm of the BBC's flagship news programme an entertaining one.
The normally unflappable Berlusconi looked briefly dumbfounded. It was widely reported in 2011 that the Italian billionaire had delivered the insult while talking to a newspaper editor, in a conversation that was wire-tapped as part of a blackmail investigation.
Berlusconi, who is rarely lost for words, squinted, then put down his pen, stared at the table and glanced away. His eyes widened and he began to gesticulate as if grasping for a response. What the German Chancellor will make of it is anyone's guess.
Eventually, the politician most famous overseas for his "bunga bunga" sex parties did come up with a reply.
"No, I have never had any problems with Angela Merkel. In 20 years of politics, I have never insulted anyone and this accusation was made up by someone who wanted to turn Angela against me," he said.
"I was not an easy person to deal with and I was quite tough. I had the courage to oppose some of the proposals made by Merkel and [French President Nicolas] Sarkozy."
Berlusconi may have thought he was being treated like an eminent statesman when the interview began. First Paxman asked him to pontificate about whether there would ever be a United States of Europe and then asked about the future of the euro. But then, in an abrupt change of tone, came the "lard-arse" line. Those bunga bunga parties were saved until last.
Berlusconi appeared more sanguine this time. "The lies that were invented about me have given me a very bad reputation abroad. Italians know very well that none of these facts are true," he insisted. He complained they were all part of politically motivated claims that led to him being involved in 57 trials and 2700 court hearings during 20 years in politics.
"The bunga bunga accusations were the most amazing things - ridiculous. They manipulated reality. Luckily I am a strong person and I was able to take it."