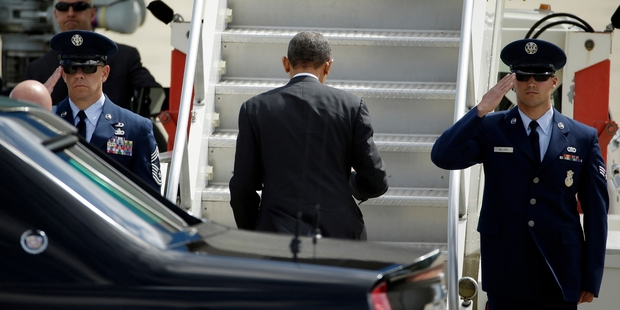 Members of Barack Obama's Secret Service team tasked with guarding the perimeter of the White House and by extension the US President and his family were repeatedly taken off their job in the middle of 2011, it was alleged yesterday, and sent to protect a friend of the then director of the agency who was in a spat with a neighbour.
While officials moved quickly to downplay what was dubbed by agents directly involved as Operation Moonlight, the affair threatens to add another stain to the reputation of the Secret Service, rocked by a booze-and-prostitution scandal two years ago after a presidential visit to Colombia.
In the spotlight are members of what is known as the Prowler Team, responsible for patrolling the edges of the White House compound. Its rounds include the Ellipse public park, from where the helicopters named Marine One carry the President in and out of Washington.
According to a report in the Washington Post the diversion of Prowler personnel began in June 2011 and continued for two months after the then director, Mark Sullivan, expressed concern about Lisa Chopey, his assistant.
Chopey had claimed that she had been threatened by her neighbours. On the first occasion she is said to have been given assistance, two agents were removed from their posts just as Obama was preparing to board his helicopter for Philadelphia.
Chopey lived in rural Maryland at the end of a drive that she shared with her neighbours who confirmed to the Post that they became baffled that summer when unidentified black SUVs began appearing near their property.
The vulnerability of the White House has twice been highlighted since Obama became President: first in 2011, when a man fired shots towards the mansion from Constitution Ave to the south, and then last week when a driver followed a car containing Obama's daughters into the White House grounds before agents could stop it.
The driver said he was merely lost in the city and was freed without charge.
A spokesman for the Secret Service, Ed Donovan, confirmed that Prowler agents had been diverted to Chopey's home but said the operation lasted only a few days rather than two months and that the agents were not directly part of the presidential detail.
But, reporting that the operation in fact lasted into the early northern autumn, the Post said agents involved had kept their own records because they were concerned that the off-the-books mission to the Maryland countryside might come under scrutiny later.
- Independent