Alleged victims include daughter's friend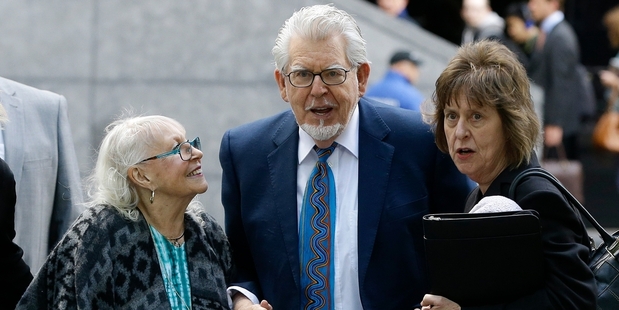 Entertainer Rolf Harris used his untouchable reputation to conceal a string of shocking assaults on children and young women, it was claimed at his trial.
Southwark Crown Court heard the four alleged victims of the presenter, painter and musician include a childhood friend of his daughter, whom he is alleged to have groomed and molested from the age of 13.
The jury was told that Harris, who denies all charges, wrote a letter to the girl's parents years later, apologising for her experiences but claiming he was unaware of how she felt and that their relationship only occurred when she was older.
Using a hearing loop to follow proceedings, Harris, 84, appeared relaxed as he faced the 12 counts of indecent assault against four victims spanning three decades between 1968 and 1986.
In a packed courtroom, with his obviously frail wife Alwen Hughes in attendance, Harris looked on as proescutor Sasha Wass QC said he had a Jekyll and Hyde character and his darker side was sexually attracted to children and underage girls.
The Crown contends Harris, who painted a picture for the Queen to celebrate her 80th birthday in 2005 before being made a CBE the following year, used his considerable reputation to hide the assaults on four children and young girls.
The court heard how his alleged victims were aged between 7 or 8 and 19 when the brazen offences were said to have taken place. The abuse, which is said to have included groping, fondling and digital penetration, was described in detail.
The prosecution said Harris was known as "the octopus" at an Australian TV channel due to the way he touched women inappropriately. Wass said the alleged victims were overawed at meeting him, adding that he was too powerful for them to report his alleged crimes.
His daughter's friend had allegedly been molested and groomed by Harris from a holiday with the family like a young puppy, and according to medical reports became a full-blown alcoholic within a few years.
During a police interview in 2012, Harris allegedly said he categorically denied having had sexual contact with the complainant while she was under the age of 16, though did admit a later consensual sexual relationship when she was an adult.
The court was told of alleged assaults relating to three other charges. These included a woman who claims Harris groped her when she was 8 years old and a woman who said he groped her during an Its a Knockout celebrity event in Cambridge when she was 14 in the 1970s.
The final three counts of indecent assault refer to an alleged victim who was part of an Australian theatre company which visited the UK in 1986.
The chances of so many people making up similar false allegations are just ludicrous, Wass told jurors. The case continues.
- Independent