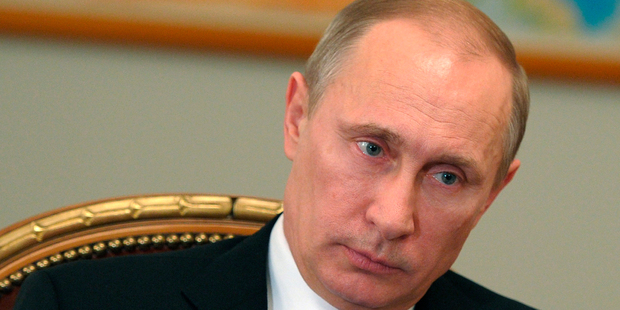 Thousands of Russian troops have marched in Red Square to mark 69 years since victory in World War II in a show of military might amid tensions in Ukraine following Moscow's annexation of Crimea.
More than 11,000 servicemen took part in the annual Victory Day parade which began with the massed troops marching to the sound of brass bands as President Vladimir Putin watched from the stands, flanked by veterans.
Putin praised the strength of Russia's "all-conquering" patriotism in his speech to the veterans and troops.
"This is a holiday when all-conquering patriotic force triumphs, when we all feel especially strongly what it means to be true to the Motherland and how important it is to be able to stand up for its interests," Putin said to shouts of "Hurrah!"
The parade took on particular significance as Russia is locked in a standoff with the West over its support for separatists in Ukraine and following its annexation of Crimea where Russia's Black Sea fleet is based in Sevastopol.
Putin was reportedly to fly directly from Moscow to take part in celebrations in Sevastopol, liberated from the Nazis 70 years ago, although the plan was not confirmed by the Kremlin.
German Chancellor Angela Merkel said it would be a pity if Putin were to use the commemorations to make his first visit to Crimea since annexation.
Meanwhile, a Russian aircraft carrier task force earlier sailed into the English Channel under Royal Navy escort as Putin announced that his forces had held a nuclear war exercise.
This included a massive simulated retaliatory nuclear strike in response to an enemy attack, Russian officials said, in the course of which several test missiles were fired.
The arrival of the ships from the Northern Fleet off Britain coincided with the Russian exercises in which the country's military fired a Topol intercontinental ballistic missile from its northern test site in Plesetsk, as well as several shorter-range missiles from its submarines in the Northern and Pacific Fleets, defence officials said.