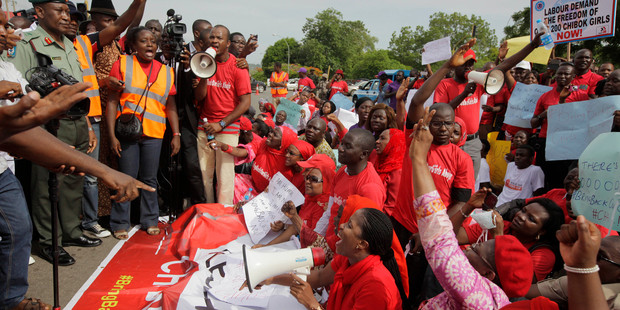 Armed men in Nigeria have abducted eight girls from the north east of the country, as the government continued to struggle to find 276 schoolgirls kidnapped three weeks ago in the same region.
"They moved door-to-door looking for girls," said Abdullahi Sani, a resident of the remote village of Warabe in Borno state, which was partly burned by the gunmen believed to belong to the Boko Haram Islamist group. "They forcefully took away eight girls between the ages of 12 and 15." on Sunday night.
William Hague, the British Foreign Secretary, said that "practical help" was being offered to the Nigerian government in its efforts to locate the abducted girls. He said: "The actions of Boko Haram to use girls as the spoils of war, the spoils of terrorism, is disgusting. It is immoral."
Read more:
• Nigeria: Kidnapped schoolgirl recounts night of terror
• West urged to use drones in hunt for kidnapped girls
• 10 facts about militant group Boko Haram
British assistance could include the use of military drones and satellite cameras to try to locate the militants' hideouts, as well as advice or direct help from special forces units. The United States yesterday also offered to send a team of experts to Nigeria.
Boko Haram's leader, Abubakar Shekau, has issued a video in which he threatens to sell the captives as slave brides in local markets.
At least two girls in the original group taken from the town of Chibok have died from a snakebite, and about 20 others are ill, according to an intermediary who spoke to the Associated Press. Speaking by telephone from Borno state, the father of one of the kidnapped girls said he was proud of his decision to educate his daughters.
Video: Boko Haram threatens to sell kidnapped girls

Ali Pogu's eldest, 18-year-old Aisha, was due to complete her final exams at secondary school this year, from where her father hoped she would go on to university from a corner of Nigeria where more than half of women are illiterate.
Now, her future is something the farmer hardly dares to contemplate. "That video has confirmed our worst fears, and when we heard about it, we started grieving afresh," Mr Pogu told The Daily Telegraph by telephone from Danga, a farming village five miles from Chibok.
"She is a well-behaved girl, who was very determined with her studies and wanted to go on to college. It is a universal right that everyone should be literate these days," he said. Boko Haram, which translates roughly as "Western education is sinful", opposes all forms of secular schooling - especially for women, whose role in Boko Haram's dreamed-of caliphate is to belong in the home.
The school at Chibok was one of the few in Borno state to have stayed open in the face of militant threats. Last night, groups and relations campaigning for the girls to be freed held another demonstration in Abuja, the Nigerian capital.

One of the mothers of the missing Chibok school girls wipes her tears as she cries during a rally by civil society groups pressing for the release of the girls in Abuja. Photo / AFP
Yanga Gapani, 40, painted a grim picture of life in hamlets around Chibok affected by the abductions, most of which had lost children, he said.
Some villagers were unable to eat, while others were heading into the surrounding forest areas to hunt for the militants, despite the risk of being killed.
"People would rather go and die in the bush looking for their daughters than stay at home worrying, especially after seeing this tape," he said. "It has left our hearts full of tears."
The abductions have led to heavy criticism of the Nigerian security forces, which have been accused of failing to take the situation seriously until a campaign on social media attracted international attention. Nigeria's security forces have little of the resources or sophistication to run a successful manhunt in the insurgent-plagued north, prompting President Goodluck Jonathan to appeal for Western assistance.
The crisis is likely to overshadow this week's World Economic Form in Abuja.