Polls show Coalition in deep trouble with voters unless it changes direction.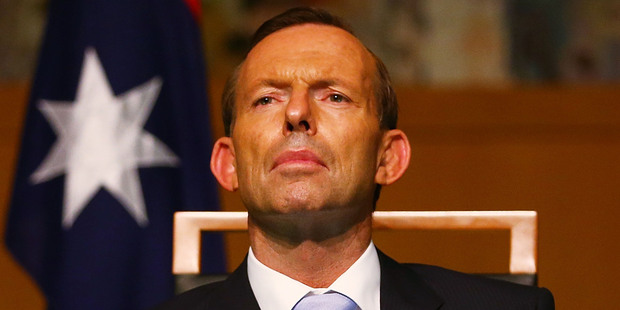 Prime Minister Tony Abbott's belief that in time Australians will thank him for his tough- love approach to economic management is rapidly looking like a political dreamtime.
As two new polls confirm disintegrating support for both his leadership and the Government, even senior Liberals are openly challenging his judgment and warning that without a change of direction retribution will be waiting at the next election.
Abbott's claim of a budget emergency that without painful surgery will lead to economic ruin is also disputed by many economists who agree with Labor's assessment that the Government has manufactured an artificial crisis for political gain.
Internationally, Abbott has suffered further embarrassment by cancelling a trip to Bali to meet Indonesian President Susilo Bambang Yudhoyono for fear of giving offence after the Australian Navy turned back yet another boatload of asylum seekers.
Abbott and Treasurer Joe Hockey have warned the nation to expect a harsh Budget next Tuesday, with swingeing cuts to health, welfare, education and a range of other services. A special levy to help pay off the budget deficit is also being considered.
Last week the Government released to widespread dismay the report of its commission of audit, set up to find ways of hauling back federal spending.
The resulting furore at its often brutal recommendations added to earlier concerns, with big business and influential Liberals adding their warnings of real damage to the economy if spending cuts are too deep.
There is speculation that Abbott will ease back and present a softer, less confronting plan for the coming financial year in the hope that relief will swing voters back his way.
But Morgan Research's latest poll showed Labor with a 55-45 per cent lead over the Coalition in the two-party preferred vote that decides elections.
A Newspoll in the Australian yesterday said support for the Coalition had dived to its lowest level in almost four years, with Labor leading the two-party preferred vote by 53-47 per cent.
Satisfaction in Abbott's performance fell to its lowest since last September's election, and Opposition Leader Bill Shorten is only two points behind as preferred prime minister.
Fury at the proposal to impose a deficit reduction levy has crossed political lines. Abbott's claim that it is not a tax and that he is not breaking a central election promise has been bitterly rejected. Former Liberal Treasurer Peter Costello wrote in a regular News Ltd column that the proposed levy was political, had no economic benefits and would damage the Government well into the future.
Former senior minister, Liberal elder Peter Reith, and Tony Shepherd, who led the commission of audit, have also criticised the proposal. Reith warned that the plan had outraged even long-term Liberal supporters.
While Abbott is reported to be considering lifting the trigger level for the levy to incomes well above A$100,000, opposition continues unabated.
Shorten said that Abbott had made himself "the Mother Teresa of political saints" by promising no new taxes but would now be held to account for his broken promises.
The Government's cries of a budget emergency are also being rapidly eroded. Analysis by the ABC's fact check upheld Labor's claim that Hockey had doubled the size of the deficit by adding A$68 billion through spending and changes to economic assumptions.
Economists also point to the nation's triple-A debt rating and the comparative size of the deficit: 34.4 per cent of gross domestic product compared with 227 per cent in Japan, an OECD average of 110 per cent, more than 106 per cent in Britain and 104 per cent in the United States.
"Tony Abbott and Joe Hockey clearly want to demonstrate their economic courage by making big cuts to spending in order to save Australia from a debt crisis," Professor James Morley of the Australian School of Business wrote in the Conversation.
"The lack of an actual crisis is only a mild inconvenience in this narrative."