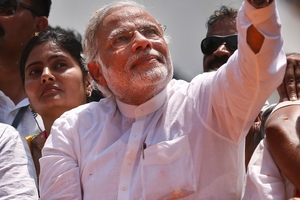 The wife Indian prime ministerial election favourite Narendra Modi declined to acknowledge for more than 40 years, prayed he would win an overwhelming victory before voting yesterday, according to his family.
Jashodaben Modi has been in hiding since he acknowledged their marriage for the first time last month when he submitted his nomination. In a statement on his behalf, his brother said it had been a forced child marriage and they had separated without acrimony shortly after.
She was among 139 million Indians registered to vote in 89 constituencies in the seventh round of a nine-phase election ending May 12.
Modi's own vote in Ahmedabad, Gujarat, where he is the state Chief Minister, prompted accusations he had broken election rules against campaigning in a polling area when he took a "selfie" mobile phone photograph and made a speech criticising the ruling Congress Party. The photograph included a lotus flower motif, his Bharatiya Janata Party's symbol, which opponents said is forbidden while voting is taking place.
His estranged wife Jashodaben cast her vote in Mehsana, around 95km from Ahmedabad. Earlier this year she said her husband had rejected her plea to be allowed to travel with him or stay with his family. She said she hoped he would become prime minister. They had spent only three months together in their three years of marriage before he left.