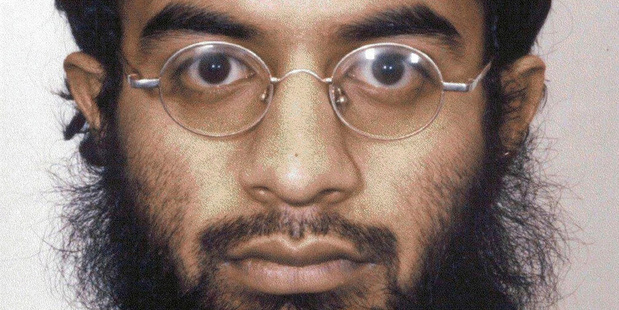 The star British witness in the New York terror trial of Abu Hamza, the radical Islamic cleric, has described how he received a hug from Osama bin Laden after the al-Qaeda leader gave him final instructions for a transatlantic "shoe bomb" plot.
Saajid Badat, a British terrorist "supergrass", said that bin Laden hugged him and "wished me good luck in my mission" at the end of their meeting in Afghanistan in November 2001, two months after the September 11 attacks.
Badat, who was released from prison in 2010 after agreeing to testify in terrorism cases in Britain and the US, also said that he discussed plans for an attack on Canary Wharf with Khalid Sheikh Mohamed, the mastermind of the September 11 atrocities.
Bin Laden urged him to recite a chapter from the Koran about the need to "hold firm, stand fast and keep the faith" if he started to have doubts about his mission to blow up a plane over the US with explosives in his shoes, he said.
Read more:
• UK terrorist has sentence cut for US co-operation
• Bin Laden's son-in-law faces life for inciting war on US
But those religious exhortations were unwittingly thwarted by Badat's family in Gloucester, the jury heard. For when he returned to Britain in Dec 2001 after three years in Afghanistan, his parents expressed fears that their son might have been trained for a terror attack.
"My father said that he would kill me if I was one of those sleepers," Badat testified by video link from Britain, adding that he abandoned his plans as a result.
According to court papers filed by prosecutors, Badat is to testify that he met Feroz Abbasi, an alleged British "terror lieutenant" of Hamza at al-Qaeda training camps in Afghanistan, and heard him agree to participate in terrorist missions.
Mr Abbasi, who had previously lived at Hamza's Finsbury Park mosque and worked there as a security guard, was captured by US forces in Afghanistan in late 2001 and held at the Guantanamo Bay detention centre for four years, but then released without charge.

Osama bin Laden. Photo / File
US prosecutors have accused Hamza, 56, of operating a global terror network from the north London mosque, recruiting young radicals to be trained for terrorism around the world.
The Egyptian-born imam has pleaded not guilty to 11 charges of providing material support to al-Qaeda in Afghanistan, trying to set up a jihadi training camp in Oregon and helping to oversee the 1998 kidnapping of Western tourists in Yemen that ended in the deaths of three Britons. Hamza and the jury watched Badat testify by a closed-circuit television link as the witness has refused to travel to America, where he still faces arrest for his role in the failed "shoe bomb" mission with Richard Reid.
Badat could see the occupants of the federal courtroom in Manhattan by a reverse video link and identified Hamza as the preacher whom he had heard deliver "shouty" sermons at Finsbury Park in the late 1990s.
The cleric, who lost his arms in an explosion in Afghanistan in the 1980s, took notes with a prosthetic limb as he listened to Badat explain Islamic teachings to the court. Hamza is expected to spend a week in the witness box when he testifies in his own defence, having overruled his own lawyers' advice not to give evidence.
The trial continues.
Sarah Palin, the former Republican vice-presidential candidate, has accused the Obama administration of being too soft on terrorists because of its decision to ban the use of torture.
"If I were in charge," Mrs Palin said at a weekend rally for the pro-gun National Rifle Association lobby, "[our enemies] would know that water boarding is how we'd baptise terrorists."