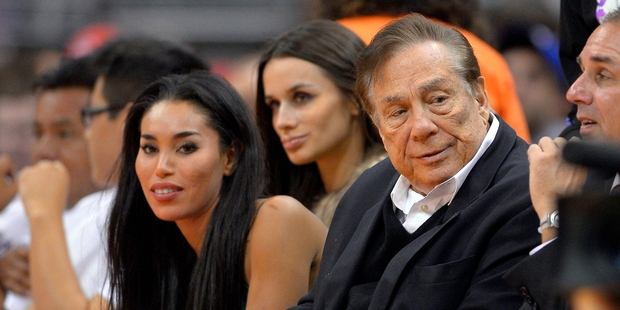 The President of the United States has waded into a row after the longstanding owner of the Los Angeles Clippers basketball franchise was allegedly recorded making racist remarks on a tape released to the gossip website TMZ.
Sports and property mogul Donald Sterling, who recently celebrated his 80th birthday, has owned the city's second National Basketball Association (NBA) team for more than 30 years.
L.A Clippers owner's racist comments

On the offending tape, a man thought to be Sterling argues with his girlfriend, the 38-year-old model Vanessa Stiviano, about her posting a picture of herself on Instagram in which she poses with the basketball icon Earvin "Magic" Johnson.
"It bothers me a lot that you want to broadcast that you're associating with black people," the billionaire reportedly says. "In your ... Instagrams, you don't have to have yourself with black people ... Don't put him on an Instagram for the world to have to see so they have to call me. And don't bring him to my games."
After the remarks became public, Johnson, an NBA hall of fame inductee who played for the Clippers' rivals, the LA Lakers, for 13 years and later became a part-owner of that team, tweeted: "I will never go to a Clippers game again as long as Donald Sterling is the owner."
The incident quickly crossed into the political sphere, with the Mayor of Los Angeles, Eric Garcetti, declaring that Sterling's remarks were "offensive and despicable and have no place in Los Angeles".
At a press conference in Malaysia, President Barack Obama described the mogul's comments as "incredibly offensive". He added: "When ignorant folks want to advertise their ignorance you don't really have to do anything, you just let them talk."
Sterling, a former lawyer, bought the Clippers in 1981 and is the longest-standing owner in the NBA. He is also one of the league's most controversial figures, and has faced several discrimination lawsuits. In 2009, for example, he paid a settlement of US$2.73 million ($3.16 million) over allegations that he refused to rent apartments to minority tenants at a Los Angeles property.
Stiviano, who is of Mexican and African-American descent, is herself the target of a US$1.8 million lawsuit filed last month by Sterling's wife, Rochelle, who alleges that he had a four-year affair with the model, during which he lavished cash and costly gifts on her. In a statement, the Clippers organisation claimed Stiviano had warned Sterling "that she would 'get even'."
"Mr Sterling is emphatic that what is reflected on that recording is not consistent with, nor does it reflect his views, beliefs or feelings," the Clippers statement said. "It is the antithesis of who he is, what he believes and how he has lived his life."
The Clippers have been enjoying one of the most successful seasons in their history. The coach, Doc Rivers, who is black, told reporters he and the whole team were angered by the tape. "I think the biggest statement we can make as men - not as black men, as men - is to stick together and show how strong we are as a group. It is easy to protest. The protest will be in our play."
The NBA has launched an investigation into the tape to determine its authenticity. The league's commissioner, Adam Silver, said Sterling's alleged remarks were "truly offensive and disturbing". The tycoon may face a large fine or a suspension if the investigation determines he made the remarks, though it is unlikely he will be forced to sell the Clippers.
- Independent