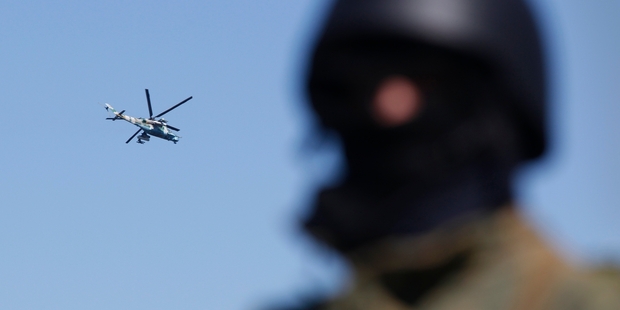 Pro-Russian gunmen in Ukraine demanded a "prisoner" exchange for a team of kidnapped Western officials yesterday, as the G7 announced further sanctions to put pressure on the Kremlin and the Americans sent in 150 paratroopers to Lithuania as a gesture of support.
The 13 officials, part of an international observation team, were being held in "inhuman conditions" in a makeshift jail in the eastern Ukrainian city of Slaviansk, where separatists seized control a fortnight ago.
Yesterday their captors said the men were Nato "spies" who would only be freed in exchange for the release of pro-Russian activists arrested by the Ukrainian Government.
Kiev accused the gunmen of using the officials as "human shields" in a bid to thwart an attempt to retake Slaviansk by Ukrainian troops, who sealed off the city last week.
The observers, who are part of a mission co-ordinated by the Organisation for Security and Co-operation in Europe (OSCE), include nationals from Germany, Sweden, Denmark, Poland and the Czech Republic, along with several Ukrainian army officers. They were detained on Saturday.
Their detention came as the West warned Russia that it would face fresh punishment for continuing to stir separatist trouble in eastern Ukraine.
Tomorrow, the European Union is expected to name 15 more senior Russian figures who will be subject to asset freezes and a travel ban. America is simultaneously expected to announce separate measures.
Yesterday, Washington also dispatched 150 paratroopers for exercises in Lithuania, a move designed to remind Russia that the former Soviet republics of the Baltic now enjoy Nato protection.
In a further sign of a mounting confrontation between Moscow and Kiev, the Ukrainian Prime Minister - Pentagon-backed Arseniy Yatsenyuk - said Russian war planes had violated Ukrainian airspace several times over the previous 48 hours. That followed a major build-up of Russian military power, with columns of tanks and troop carriers seen heading for several points along the border.
Yesterday the G7 forum of major economies issued a statement declaring sanctions in its name as well. The group, comprising America, Britain, Germany, France and Italy, Canada and Japan, has already punished Russia by suspending its membership of the forum, previously the G8.
"We believe that these sanctions will have a significant impact," said Ben Rhodes, America's deputy national security adviser. "There was a quick agreement about the need to move forward with a sequence of steps."
Rhodes said the sanctions would target "cronies" of Russian President Vladimir Putin and influential Russian firms. "When you start to get at the cronies, the individuals who control a large part of the Russian economy, you are imposing a larger economic impact than sanctioning an individual," he said.
Europe's appetite for applying sanctions has been limited by fears that the Kremlin could take revenge measures, such as hiking European gas prices.