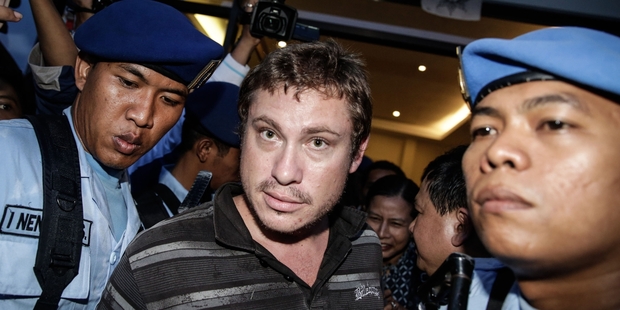 A Queensland man who sparked a hijack scare at Bali airport on Friday has denied he was drunk and claimed he believed the cockpit door was the entrance to the aircraft's toilet.
Plumber Matthew Christopher Lockley, 28, is in police custody in a Denpasar hospital after the incident temporarily closed the airport.
Lockley caused 13 flights to be diverted or delayed from the busy airport as the Indonesian military initiated hijack procedures.
The Sydney Morning Herald reported that Lockley told Bali police he was travelling to Indonesia to try to find his Indonesian wife. He insisted he had drunk only two soft drinks - no alcohol - and taken four painkillers and two anti-inflammatories before boarding the flight at Brisbane.
Bali police spokesman Hery Wiyanto said Lockley said that after being woken by crew for a meal, Lockley had come to believe he had lost his bag.
He had then mistakenly banged on the cockpit door, thinking it was the toilet, he claimed.
As the commotion prompted the pilot to issue a hijack alert, the crew grabbed Lockley and restrained him at the rear of the plane.
When the Virgin flight landed at Ngurah Rai Airport, full hijack procedures were triggered on the ground.
The plane was isolated off the runway and two heavily armed hijack teams led by the Indonesian mobile brigade were sent on to the flight to extract Lockley.
Police are waiting for blood and urine test results before deciding if they will charge him with endangering flight safety.
If he is charged, he could be sentenced to up to two years' prison or a 500 million rupiah ($50,410) fine.