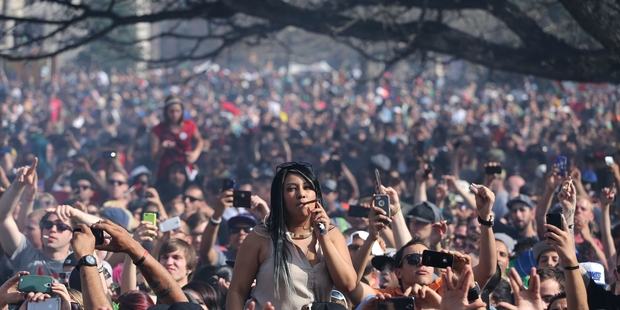 At an outlet of Starbuds in Denver the lines are long, and the green logo seems very familiar, but they're not serving coffee.
Instead, pungent buds with exotic names such as "purple voodoo" and "amnesia haze" are flying off the counters, with cannabis-infused organic chocolate bars, strawberry flavoured "canna-punch" drinks, and pot-laced gummy bears.
"We're slammed," said Starbuds owner Brian Ruden, 38, standing underneath a giant plasma screen displaying prices.
Ruden, a former tax lawyer who earns "significantly more" now that he is a "ganjapreneur", was helping his budtenders with hundreds of customers. "Seventy per cent of the people coming through today are from outside Colorado," he said.
The tourists were descending for "4/20" otherwise known as "World Weed Day". Origins of this annual celebration are hazy, but it is the first such occasion since Colorado became known as "America's Amsterdam".
On January 1, the state opened shops that legally sell cannabis to anyone aged over 21, paying hefty taxes on the profits to the state Government.
Falling as it did this year on Easter Sunday, the event was also inevitably labelled the "holy day of pot".
While millions across America went to church, an estimated 80,000 were gathering in Denver's Civic Centre Park for the self-billed "biggest cannabis rally in history". T-shirts saying "What would Jesus have smoked?" were on sale.
In the park, sitting in the shadow of the Colorado state capitol, a young man called Cody celebrated his 21st birthday by inhaling cannabis fumes through a World War II gas mask.
Legalisation allows only for smoking cannabis indoors, but as a fug drifted symbolically towards the capitol, police took little notice of Cody. "There's police here but they've kind of kicked back and relaxed too," he said taking his gas mask off. "It's great, people are free to do what they want to do."
Across town, Denver was also hosting the Cannabis Cup, a vast open air trade fair with free cannabis samples, cooking lessons on how to make "pot butter", models wearing cannabis leaf bikinis and an array of industrial growing equipment such as hydroponic lights and hydrocarbon extractors. Cannabis proponents believe the tide of legalisation is inevitable and that the rest of America will follow Colorado sooner rather than later. Polls show slightly more than 50 per cent of Americans in favour.
Under federal law, possession of the drug is still illegal but the central government has simply left Colorado to go its own way. Last week, Eric Holder, the US Attorney-General, said he was "cautiously optimistic" about what was happening in the state.
Taxes are rolling in: the Colorado Treasury expects to receive US$118 million ($138 million) from US$613 million in sales in this financial year.
But amid the euphoria for activists and government accountants, a revolt is under way. Battle lines are being drawn with opponents seizing on two recent cannabis-related deaths. Last month, Levy Pongi, 19, a Congolese engineering student on spring break, threw himself from the fourth floor balcony of Denver's Holiday Inn.
A coroner found he had eaten a particularly potent pot biscuit and listed "marijuana intoxication" as a significant factor in his death.
Last week, Richard Kirk, 47, shot his wife Kristine, 44, dead in front of their three children after hallucinating and rambling about the end of the world. Police found a receipt for orange and ginger flavoured cannabis sweets in the house.
Charlie Brown, the Kirks' local councillor who headed the Denver council committee charged with implementing legalisation when the public voted for it, has reservations about how it is all unfolding. "I'm really concerned," he said. "There have already been incidents of kids smoking marijuana in the back of class.
"You've got cookies, sweets, gummy bears and cupcakes laced with marijuana and nobody knows the potency. This is strong stuff. This is not your father's marijuana, it's 10 times more potent than it was 20 years ago."
Since legalisation 26 people - six of them children - have been seen by the Rocky Mountain Poison and Drug Centre for poisonings from cannabis "edibles" such as sweets and cookies.
Washington state is to open shops within months and a series of other states are expected to be battlegrounds, including Alaska, Maine, Hawaii and, perhaps most crucially, California.