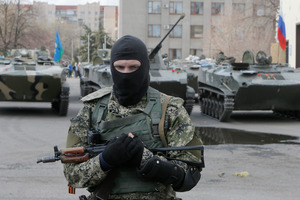 Jews have reportedly been told to "register" with pro-Russian forces in the east Ukrainian city of Donetsk.
They were also told they would need to provide a list of property they own as well as being ordered to pay a fee or face the threat of deportation.
US officials in Washington say leaflets bearing the chilling order have recently appeared in the city amid pro and anti-Russian protests as tensions rise in the area.
It comes after Jews leaving a synagogue in the city of Donetsk were reportedly told they had to "register" with Ukranians trying to make the city part of Russia.
United States Secretary of State John Kerry has condemned the distribution of leaflets in eastern Ukraine demanding that Jews identify themselves.
Mr Kerry described the leaflets as "grotesque and beyond unacceptable" as he hit out at instances of religious intolerance that have been inflaming tensions in the nation.
The State Department says it is looking into who is responsible but takes the threat seriously no matter who is behind the leaflets.

Mr Kerry, who is currently in Geneva for talks on Ukraine, also denounced apparent threats to members of the Russian Orthodox Church from members of the Ukrainian Orthodox Church.
He said no such behavior could be tolerated. it is not yet clear who exactly is responsible for producing the leaflets.
According to USA Today, the leaflet says all people of Jewish descent over 16 should report to the Commissioner for Nationalities in the Donetsk Regional Administration building and "register".
It goes on to explain that the reason for this is that leaders of the Jewish community of Ukraine supported Bendery Junta in reference to the leader of a nationalist group fighting for independence at the end of the Second World War.
The letter features the flag of the so-called Donetsk Republic, a self-proclaimed state declared earlier this month by several hundred activists who occupied the Regional Administration Building and the City Hall buildings in the city.
In March leaders of Ukraine's Jewish communities published an open letter denouncing Russian anit-semitism and criticising Putin.
The Kiev-based Vaad of Ukraine is an umbrella group that says it supports "265 Jewish organizations from 94 cities of Ukraine".
Agreement to calm Ukraine tensions
The letter, written in Russian and co-signed by 21 Jewish leaders - including the Vaad leadership, supports Ukrainian sovereignty 'in the name of national minorities and Ukraine's Jewish community.'
Putin has justified his military action by claiming that he is acting to protect Ukraine's Russian-speaking population and claims that Ukraine's new government is composed of "fascists and neo-Nazis".
But the letter, claiming to represent Russian-speaking Jews, said: 'Your certainty about the growth of anti-Semitism in Ukraine, which you expressed at your press conference, also does not correspond to the actual facts,'
"Perhaps you got Ukraine confused with Russia, where Jewish organisations have noticed growth in anti-Semitic tendencies last year."
During the Soviet era, the Soviet Union and countries within its sphere of influence were accused of persecuting Jews. Josef Stalin was said by numerous sources to despise Jews and under Brezhnev Jews faced discrimination.
Mr Kerry has been attending a conference on the unfolding crisis in Ukraine.
Parties including representatives from Ukraine, Russia and the European Union, issued a joint statement which read: "The participants strongly condemned and rejected all expressions of extremism, racism and religious intolerance, including anti-semitism."
- Daily Mail