Pro-Russian separatists seize buildings but eastern region tougher prospect than Crimea.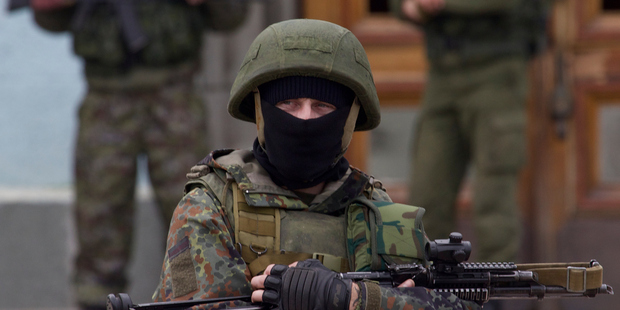 Straddling both a railway line and a river, the potholed bridge into the city of Sloviansk was not admitting traffic.
Using tyres, rubble and their own intimidating presence, crowds of armed pro-Russian separatists sealed the city off to the outside world.
Barricades like these have sprung up on roads all over eastern Ukraine's Donetsk region in recent days, designed to protect the pro-Russian gunmen who have seized police stations and other buildings in town centres. And while the crowds include women, children and toddlers, there is more than a sneaking suspicion that some of the "patriotic" gunmen are in fact Russian troops.
Yesterday the United States threatened Russia with further sanctions after accusing Moscow of being behind the latest bout of unrest in Ukraine.
The warning came as the Ukrainian Government dispatched special forces to remove pro-Russian gunmen who seized buildings in several cities in the east of the country over the weekend.
It was at a roadblock on the far side of Sloviansk that at least one man was killed when Ukrainian forces on an "anti-terrorist operation" moved to dislodge the separatists.
The fight, initially reported by Ukraine's Interior Ministry, was confirmed by separatists who have seized the police station inside Sloviansk. Predictably, their accounts differed.
"The attackers were either from the pro-fascist group Right Sector or US mercenaries," said a masked separatist leader who called himself Alexei. "One of ours was killed, and two of theirs.
"We are armed only with our hearts, our spirit, our heads, and our hands. And a few other things too."
Whatever happened, it was clear the "anti-terror operation" announced by acting Interior Minister Arseny Avakov had failed to shift the militants.
Sloviansk is now the epicentre of a cat-and-mouse game between pro-Russian and pro-Ukrainian groups racing to secure dominance of as many cities as possible in the Donbass region.
Like in Crimea, the seizures have targeted official buildings. And they seem to have been led by small groups of heavily armed, highly trained men, backed by civilian militias.
Unlike in Crimea, they are not wearing telltale Russian uniforms. But they are distinguished by their stance and the way they hold themselves slightly aloof from their companions.
If they are Russians, it seems that this time the Kremlin has gone to greater lengths to provide plausible deniability. But seizing eastern Ukraine is a tougher prospect than seizing Crimea. It is a vast area with no obvious geographic border, requiring huge numbers of men to properly secure.
And despite little sympathy for the Kiev Government, which many blame for years of neglect, there is none of the overwhelming public support for Russia that made Crimea a walkover.
Also, the Ukrainians have made at least some effort to fight back.
Wary of a full-scale invasion, Moscow may simply be stirring up trouble to accumulate some bargaining chips for Friday's talks in Geneva.
The UN Security Council met to discuss the crisis and US Vice-President Joe Biden plans to travel to Kiev next week.