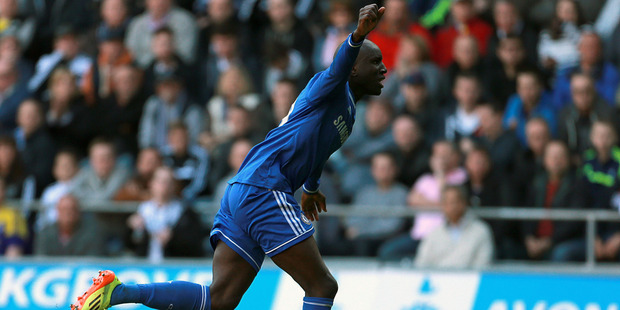 Jose Mourinho refused to come out and speak for his post-game press conference but, on this occasion, he wouldn't have been able to spin it or downplay it: Chelsea have a huge say in this title race.
Yesterday against a 10-man Swansea they took an appreciable step. That was thanks to Demba Ba making a significant leap. Although this was the striker's first start since October, he ended up providing the finish Chelsea so badly needed.
It is quite a resurgence, especially after the heroics against Paris Saint-Germain, and Mourinho's side must now keep that momentum going.
In truth, though, this game illustrated why his side had recently lost the Premier League lead.
Despite Chico Flores' 18th-minute red card after a long deliberation by referee Phil Dowd, Chelsea made hard work of opening Swansea up.
It has been a recurring theme of their season, culminating in Mourinho's notorious complaints about his forwards. Here, the most overlooked saved him.
"It has been a very good week for the whole club, the fans and my family," said Ba, who also scored the winner against Paris Saint-Germain.
"I always believe, even though it's hard when you don't play, because fitness and confidence go down. I just said I would give everything and the goal came."
Before that, Mohamed Salah, Willian, Oscar, Samuel Eto'o and Ba himself had squandered clear opportunities. It looked as if it was going to be one big missed chance.
It is also the one big worry for Chelsea in this run-in.
While they possess the cast-iron defence that both Liverpool and Manchester City do not, they also lack the fire-power that sees their two rivals more regularly blow away lesser teams. In that, Chelsea's favourable run-in - excluding that trip to Anfield in two weeks - may actually be a disadvantage.
As ominous as Mourinho's team look, there is that ominous feeling that they have one more blank in them. This came very close to being it, despite the extra man.
Chelsea only added a layer of complexity to the title race.
Although it is Liverpool's to lose, Mourinho's side have it in their own hands to finish above Brendan Rodgers' team but require another slip from Manchester City. Manuel Pellegrini, ironically, now needs a favour from Mourinho at Anfield. Independent