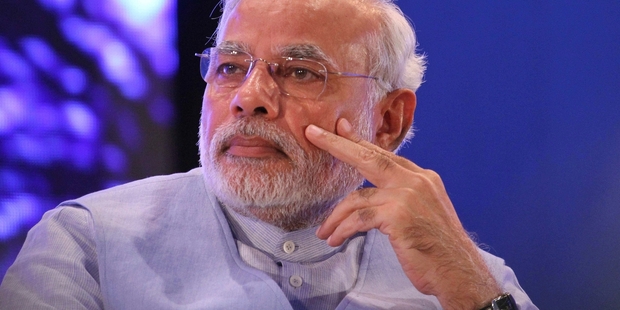 Narendra Modi, the leading candidate to be India's next prime minister, acknowledged for the first time yesterday that he is married, confirming the rumour that he was forced into an arranged marriage as a child.
The 63-year-old is routinely described as a bachelor and is thought to have lived alone in his adult life, but admitted in his nomination papers to stand as an MP that he is married to a woman called Jashodaben.
In the column of the affidavit to name spouses, Modi - who is chief minister of Gujarat and leader of the opposition Bharatiya Janata Party - mentions "Jashodaben", but states elsewhere in the filing that he had "no information" about her.
Somabhai Damodardas, Modi's brother, later issued a statement on behalf of the prime ministerial candidate in which he claimed it had been a forced childhood marriage against his will when he was 17. He left his wife for his political career and a desire to serve his country, Damodardas said.
"Our parents considered Narendra to be a normal child and under this circumstance got him married at a very young age. But for Narendra, service to the nation was foremost so he left home," he added, recalling his parents' modest means with six children to bring up and "how there was little education in our family".
The admission was seized upon by Modi's opponents, who said his years of deception and failure to stand by his wife raised questions about his loyalty and honesty.
It has also offered a rare glimpse into his private life, about which little is known.
A retired schoolteacher living in rural Gujarat on a pension of 14,000 rupees ($270) a month has claimed in interviews that she is Modi's wife.
The woman, Jashoda Chiman Modi, said she followed Modi's progress on television and in newspapers and still considered herself to be his wife despite being abandoned 42 years ago.
Voters went to the polls on Thursday on the first major day of India's marathon national election. It was the third of nine phases of voting in the world's biggest election that will end when results are published on May 16. Ballots were cast in the capital, New Delhi, with its 17 million residents, and in densely populated rural constituencies in the north.
Early voting took place peacefully and slowly in New Delhi, where a fifth of Parliament's 543 seats are up for grabs, after authorities declared a public holiday, with voters making their way to polling stations in bright spring sunshine.
The race in the capital is being closely watched as it is seen as a three-way contest between the ruling Congress Party, the opposition Bharatiya Janata Party and the upstart Aam Aadmi Party.
In Uttar Pradesh state, a key battleground that sends 80 MPs to Parliament, voters in an area hit by religious riots last August also went to the polls, including those still living in refugee camps.
Telegraph Group Ltd, AFP