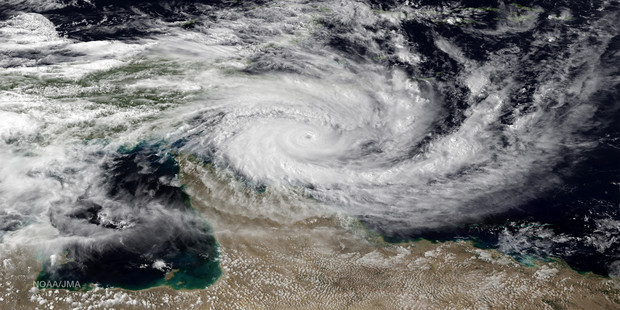 Cyclone Ita has hit far north Queensland's coast with wind speeds of more than 200 kilometres an hour.
The category four cyclone's eye crossed Cape Flattery, more than 300km north of Cairns, around 9pm and will gradully track southwards.
Hundreds of residents across the coast have hunkered down at cyclone shelters.
The cyclone is crossing the coast near Cape Flattery with destructive winds of 230 kilometres per hour near the core.
Gales extend 185 kilometres from the centre and powerful wind gusts of more than 125km/hr are expected to develop between Cape Melville and Cooktown and reach as far south as Port Douglas by Saturday morning.
There's a possibility that Ita could track south close to the coast, bringing wind gusts of 150km/hr to Cairns on Saturday.
Coastal residents between Cape Flattery and Cape Tribulation, including Cooktown, are being warned of the dangerous storm tide.
"The sea is likely to rise steadily up to a level which will be significantly above the normal tide, with damaging waves, strong currents and flooding of low-lying areas extending some way inland," the bureau says.
Fraudsters are offering to relocate the belongings of far north Queensland residents affected by tropical cycle Ita, Premier Campbell Newman warns.
Mr Newman says callers posing as SES volunteers are phoning people in Cairns and offering to shift their goods to a safer place.
Reports on Twitter on Friday suggest people in Innisfail, hit hard in recent years by cyclones Yasi and Larry, are also getting the calls.
Mr Newman says he is unsure of the number of bogus calls and warns people to deal only with properly identifiable SES workers.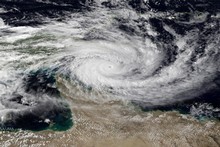 "There have been some reports that I have just received about bogus calls to people in this area, in the Cairns area, who are claiming to be SES and saying they are willing to take people's stuff away to a safe, dry place," he told the ABC.
"Don't deal with people unless they are proper SES people with the uniforms, with the ID. That's something we need to warn people about.
"The proper authorities should come to you if there is a need to evacuate or take some sort of action."
Mr Newman promised police would come down hard on fraudsters.
"If people are pulling stunts like that, we will track you down and you'll be in a lot of trouble," he said.
- AAP