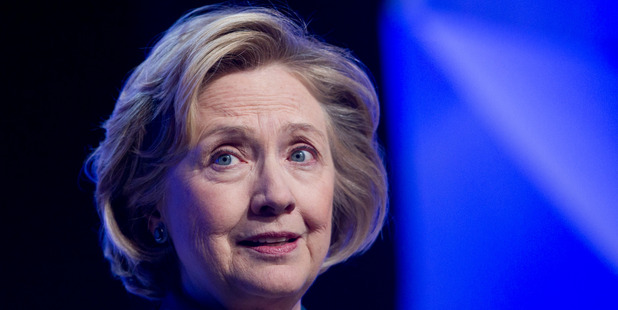 Hillary Clinton has so far artfully dodged questions about her 2016 US presidential ambitions from the press, supporters and potential Democrat rivals.
But yesterday, a question from six-year-old Zola Demarco, from Portland, Oregon, appeared to leave her, for once, without an answer.
"In 2016, would you prefer to be called Madam President or Mrs President?" she asked. Mrs Clinton grinned sheepishly as the audience in liberal Oregon leapt to their feet in a full minute of sustained cheering and applause. The former secretary of state looked embarrassed as she walked offstage without answering, pausing to offer a comic shrug before disappearing into the wings.
Read more:
• Shoe hurled at Hillary Clinton
Although the next presidential election is more than two and a half years away, America still burns with questions over Mrs Clinton's future and the prospect of a second bid to become the country's first female commander-in-chief.
Her official line is that she has not yet decided and will take the rest of 2014 to make up her mind.
"The hard questions are not, 'Do you want to be president? Can you win?'" she said this week. "The hard questions are, 'Why? Why would you want to do this?' and `What? What could you offer that could make a difference?'"
In the tradition of prospective presidential candidates, Mrs Clinton is releasing a book in June, offering "candid reflections" about serving four years in the cabinet of President Barack Obama, her 2008 rival. "Just another light, summer read," she joked.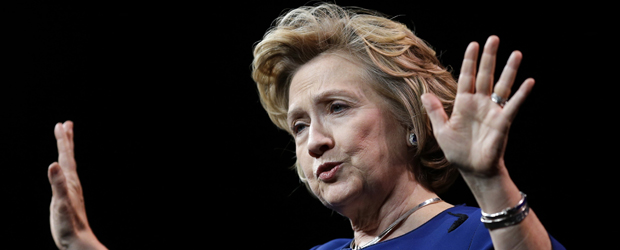 Former US Secretary of State Hillary Rodham Clinton. Photo / AP
Ready for Hillary, an independent political operation formed by her former aides and allies, said it had raised $1.7 million this year from donors eager for her to get into the race. Among them is Laurene Jobs, the widow of the Apple founder Steve Jobs, according to the American website Politico.
Mrs Clinton continues to dominate fellow Democrats in the opinion polls.
A survey from the key state of Iowa puts her on 63 per cent, five times the rating of her closest competitor, the liberal senator Elizabeth Warren, who insists she is not running.
While the Democratic primary is overshadowed by Mrs Clinton, the Republican field remains wide open. Polls show enthusiasm for Rand Paul, 51, a libertarian senator. But Mr Paul's isolationist foreign policy views have alarmed party elders, who are actively looking to "draft" a less radical candidate to oppose him.
Their hopes have set on Jeb Bush, the younger brother of George W Bush, who served two terms as governor of Florida.
Amid the clamour about an election 943 days away, it is worth remembering that opinion polls from April 2006 - the same distance from the 2008 election as today is from 2016 - did not even ask voters if they would consider a little-known Illinois senator named Barack Obama.