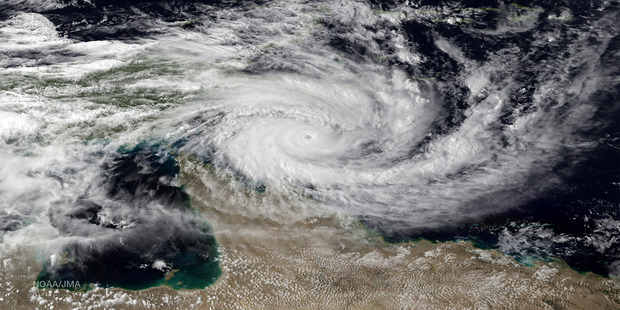 Cyclone Ita has been upgraded to a category five storm and its winds are shortly expected to begin lashing the north Queensland coast.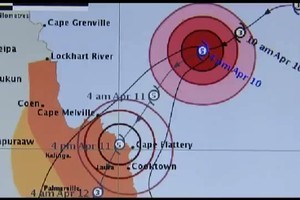 Winds of 100km/h could hit the region as early as Friday morning, with the worst cyclone since Yasi expected to hit somewhere between Cape Melville and Cape Tribulation on Friday night.
Are you a Kiwi in Ita's path? How are you preparing? Email us here.
"It's coming in faster and bigger than we first thought it was going to," Cook Shire Mayor Peter Scott said while boarding up windows of his family home on Thursday.
Ita was 285km off the mainland last night and the weather bureau says it poses a "significant threat" to far northern communities.
It's expected to bring gales up to 280 km/h, heavy rain and storm surges when it hits the coast, with 9000 people directly in its path.
Cooktown locals were making an early morning dash to their service station as the town braces for its first major cyclone in 65 years.
Ita was 235km northeast of the town at 6am, as some 28 people spent the night in the local cyclone shelter.
Cooktown, north of the World Heritage-listed Daintree National Park, was last battered by a cyclone in February 1949.
Locals were rushing to the local service station for supplies as strong winds and heavy rain drenched the town of about 2300 people soon after daybreak.
It is understood Cooktown's main store is closing its doors soon, while most homes in the area are either boarded up or have tape on the windows.
A cyclone warning is place from Lockhart River to Innisfail, extending hundreds of kilometres inland, and a cyclone watch alert is current from Innisfail to Cardwell.
"I've heard it's going to intensify and it's going to get really scary," Dottie Bostoch told AAP as she made her makeshift bed in the Cooktown shelter last night.
Ms Bostoch, 77, who took her dog Leo along to the shelter, said she feared her house would cave in when the potentially destructive winds hit.
Bruce Jenkins, 68, also spent the night at the centre with his cat Busta.
"I get all jittery when there's a cyclone and so does my cat," he said.
Others in Cooktown spent yesterday boarding up their homes, clearing yards and stocking up on supplies.
The weather bureau says while Ita was intense, it's a smaller system and would move slower than category five Cyclone Yasi in 2011 and category four Cyclone Larry in 2006.
- AAP