Liberal hardliner rejects historic donations claims and polls point to voter disapproval.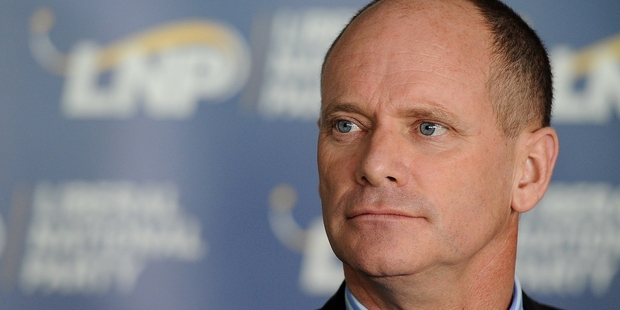 Campbell Newman, the Liberal hardliner who swept Labor from power in Queensland two years ago, faces a combination of past demons and new controversies as the state's voters increasingly turn their backs on his Government.
Newman is in China this week with Prime Minister Tony Abbott and other state premiers on a mission to sell Australia to potential investors, who already own huge holdings in Queensland ranging from Gold Coast property to farmland and mines.
But at home his political rivals have leapt on new allegations emerging from the New South Wales' corruption hearings into a water company linked to notorious former Labor powerbroker Eddie Obeid that has already embroiled former federal Assistant Treasurer Arthur Sinodinos.
The Independent Commission Against Corruption is investigating Australian Water Holdings and its bid for a huge contract with the state-owned Sydney Water Company that would allegedly have netted Obeid, Sinodinos and other major players tens of millions of dollars.
The inquiry has now been told that AWH arranged a meeting with Newman in return for a A$5000 ($5377) donation to his 2007 campaign for re-election as Brisbane's Lord Mayor.
The ICAC heard that such donations were "mandatory" for any business meetings with Newman.
Paul Nicolau, a former Labor Party fundraiser, told the inquiry he had arranged a meeting between AWH executive Nick di Girolamo and Newman in June 2007 through former Queensland Liberal Party president Don Galtos.
Nicolau said he was told by Galtos that "we are happy to facilitate it if he could possibly make a donation towards [Newman's mayoral re-election] campaign". Nicolau said the donation was mandatory "in the sense to help facilitate" the meeting.
The Labor Opposition and mining magnate Clive Palmer, federal MP and head of the Palmer United Party now likely to hold the balance of power in the Senate, have slammed Newman, demanding explanations.
Newman has rejected calls to resign. His office said he did not personally solicit donations to his Forward Brisbane Leadership Trust, and was unlikely to have agreed to a meeting if he had known of the donation.
But the ICAC allegations have resurrected earlier revelations about the trust, which raised more than A$7 million outside the official mayoral Liberal fundraising machine. Large donations were made by construction companies and property developers including developer Philip Usher, who made seven donations totalling A$72,000 under seven different names.
Usher was given approval for several major developments shortly afterwards, but an investigation by the state's anti-corruption watchdog, the Crime and Misconduct Commission, found no evidence of wrongdoing.
Newman faces other problems. The Premier, last month awarded a A$70,000 a year pay rise backdated to last July, launched a hairshirt austerity drive after winning a huge majority in the 2012 landslide, sacking thousands of public servants and slashing spending and services. Against strong opposition he further plans to sell A$15 billion of state-owned corporations, including ports, forests, motorways and rail freight operations. He has also outraged many Queenslanders with decisions hitting the environment including the clearing of large tracks of marginal country and new coal mines and ports threatening the Great Barrier Reef. His draconian anti-bikie laws are being challenged in the High Court. Newman is now hurting in the polls. The latest, a Galaxy poll for the Courier Mail in February, showed that primary support for his Government has plunged to 41 per cent.
Newman's personal popularity has also dived although he remains preferred Premier over Labor Leader Annastacia Palaszczuk.