Jesuit who stayed in Homs during conflict to help both Christians and Muslims was `a martyr'.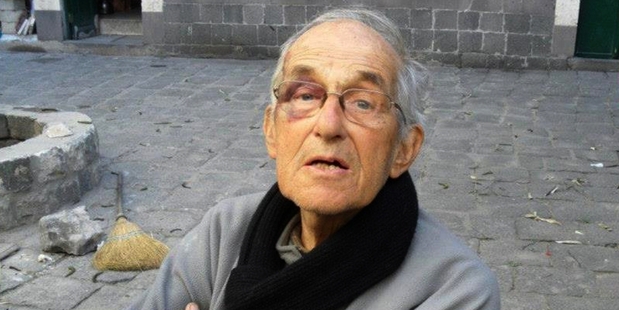 A Dutch priest who refused to leave the Syrian city of Homs when it was besieged was beaten and shot dead in his monastery by a masked gunman yesterday.
Father Francis Van der Lugt, 72, had insisted on remaining in the Old City area of Homs, risking starvation and shellfire, until every civilian could be evacuated.
A gunman entered his monastery, beat him, made him sit on a chair in the church garden and shot him in the head, said Abo Moaz, an activist.
The Jesuit priest, who had lived in Syria since 1966, had become a local community leader in the past three years of conflict, managing relationships between Christians and Muslims in the wartorn area.
It is not known who killed him. The Syrian state television news agency Sana blamed the killing on "terrorists" but gave no further details. Some members of the opposition blamed the death on "pro-regime gunmen" who had "infiltrated" their ranks. Syrian's main opposition bloc called the killing a criminal act and blamed President Bashar al-Assad's forces.
Father Jan Stuyt, the secretary of the Jesuit order, said Van der Lugt was a "martyr for the inter-religious dialogue".
A member of the Syrian Arab Red Crescent said the priest's death may have been related to negotiations for an evacuation of civilians. "There are many armed groups inside the Old City who have stopped the evacuations in the past," the source said. "They don't want all the civilians to leave, as they fear the Syrian army would then flatten the area."
Another Jesuit priest, Father Paolo Dall'Oglio of Italy has been missing since July after travelling to meet Islamic militants who now rule the eastern city of Raqqa.
An activist based in the blockaded rebel-held area of Homs said rebel fighters were shocked by the priest's death.
Regardless of the rebels' views toward Christians, the priest was well-liked for his efforts to get the blockade lifted and alleviate widespread suffering and hunger among civilians, the man said.
- additional reporting AP