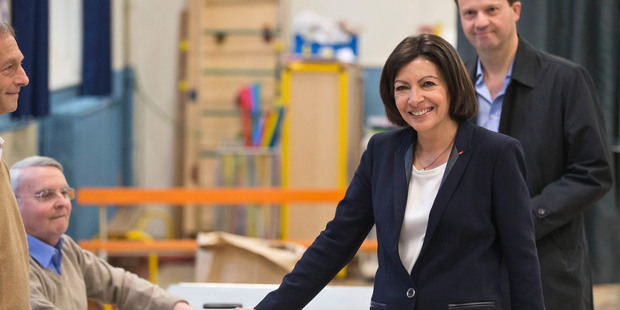 French head of state Francois Hollande is under pressure to carry out a radical Cabinet reshuffle after the ruling Socialists were clobbered in the first electoral test of his presidency while the far right scored unprecedented gains.
Desperate to shore up public confidence over his handling of the economy, Hollande this week is likely to ditch Prime Minister Jean-Marc Ayrault in a revamp that will promote veterans and usher in pro-business figures, say analysts.
Frontrunners for that job are the blunt-talking Interior Minister, Manuel Valls, the only Socialist politician with nationwide popularity; Bertrand Delanoe, who has just stepped down as Mayor of Paris and helped break the mould for openly gay politicians; Foreign Minister Laurent Fabius. and Claude Bartolone, president of the National Assembly. Hollande may bring in industrialist Louis Gallois to give the Cabinet a business-friendly look. To balance criticism from the party's left, Hollande's former partner, Segolene Royal, a favourite among bourgeois bohemians, is being touted for a comeback.
Royal had been sidelined after the 2013 presidential win, reputedly by Hollande's girlfriend at the time, Valerie Trierweiler.
The revamp has been the buzz of Paris for weeks but now seems inevitable after the runoff round in local elections that tarred Socialist candidates with the unpopularity the party is enduring at national level. Provisional results showed dozens of Socialist-held towns, including Toulouse, Reims and Limoges, which have been in the party's control for more than a century, falling to the conservative UMP. The anti-immigrant, anti-Europe National Front, which challenged only a fraction of the councils, gained control of at least nine towns, more than twice its previous highest showing in 1995, including Frejus and Beziers. The Socialists' one bright spot was Paris, where it was tipped to hold on to power, with Anne Hidalgo, 54, a Spanish-born lawyer and former deputy to Delanoe, becoming the capital's first woman mayor.
Reflecting deep voter frustration, the nationwide turnout was under 62 per cent, a record low for local elections.