Moscow denies intelligence reports it's preparing to invade western neighbour.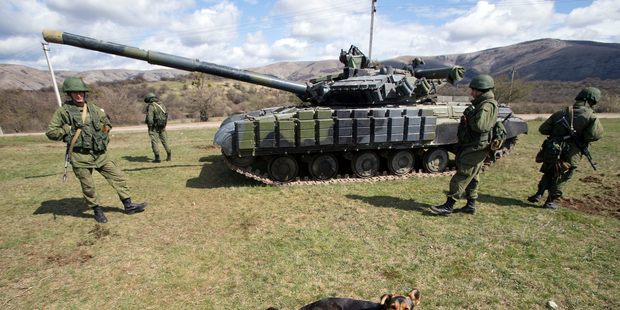 Russian and American officials were preparing for talks in Paris to address the crisis in Ukraine, as Moscow issued a rebuttal of intelligence claims that it was poised to invade its neighbour.
Secretary of State John Kerry turned around his flight home to Washington from Riyadh to attend talks with Sergei Lavrov, the Russian Foreign Minister, scheduled to take place today.
The Paris meeting was set up after Barack Obama and Vladimir Putin spoke over the telephone during the US President's visit to Saudi Arabia to try to smooth tensions that have pitched the countries in Europe close to the brink of war.
The talks follow apparent efforts by the Kremlin to defuse tensions after Obama warned Russia to pull back troops from the Ukrainian border.
The first sign of a thaw came on Saturday, when Putin and Obama spent an hour on the phone to discuss what the White House is calling a "diplomatic resolution".
"President Obama suggested that Russia put a concrete response in writing and the presidents agreed that Kerry and Lavrov would meet to discuss next steps," the White House said.
Lavrov reinforced that message yesterday, telling Russian state television there were no plans to enter Ukraine. "We have absolutely no intention, or interest, in crossing Ukraine's borders," he told the Vest news channel.
The Kremlin's choice of words was somewhat different: according to the Russian account of the presidents' conversation, Putin proposed "considering possible steps by the international community to help stabilise the situation".
But the message seems clear: after warnings of troop build-ups in border areas caused fears of a Russian invasion of Ukraine, Moscow appears to be making efforts to reassure the world.
While there were fears Russia was engaged in "maskirovka" - an exercise in deception and diversion - the signs are that Moscow may have tired of the game of military brinkmanship it initiated nearly a month ago with its takeover of Crimea.
Lavrov used his interview to outline what a diplomatic solution might look like, reiterating a list of demands including the federalisation of Ukraine, the adoption of Russian as an official language, and clearing Kiev's Independence Square and occupied buildings of protesters. He also said Ukraine must commit to never joining Nato.
"There should be no ambiguity here. There is too much 'not for the time being' and 'we don't intend to'. Intentions change, but facts on the ground remain," Lavrov said.
Western powers and Ukrainian leaders have previously rejected federalisation as a thinly masked means by which Moscow could increase its influence over Ukrainian border regions.
Protesters have said they will remain in Independence Square until at least the May 25 general election, to ensure the result is in their view free and fair.
But Lavrov hinted yesterday that Western diplomats had suggested they may be willing to negotiate on some of his points.
"Our approaches are converging," he said. "They are listening. I can say that a federation is far from a forbidden word in our talks. Frankly speaking, Russia sees no path of sustainable development for the Ukrainian state other than federalisation."
American and Ukrainian defence officials have expressed concern that Russia may mount an annexation similar to that of Crimea, or launch raids into Ukraine as part of an invasion.
- Telegraph Group Ltd
Poroshenko: easy does it
The man widely expected to be the next president of Ukraine has stressed that his country "did not want to harm Russia" and new sanctions against Moscow by the international community should only be considered if the ones already announced are found to be ineffective.
Petro Poroshenko said that a new security arrangement with Nato was necessary as Russian President Vladimir Putin's takeover of Crimea has shown that the current system was not working. He was keen to point out, however, that all his country was doing was defending territorial integrity and maintaining independence.
The 48-year-old "Chocolate Oligarch" took a major step towards power in national elections when former boxing champion Vitaly Klitschko withdrew his candidacy and backed Poroshenko.
Klitschko will run for the post of Mayor of Kiev. Poroshenko, who made his US$1.3 billion fortune from confectionery, is left in a two-horse race facing Yulia Tymoshenko, the freed former Prime Minister. Yesterday a placard in English was being waved in downtown Kiev, declaring "Dream Team. Willy Wonka and Rocky."
Opinion polls have consistently put Poroshenko in the lead.
- Independent