Warrant Officer awarded the Military Cross for his actions after latest attack.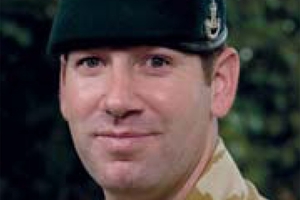 He is either the unluckiest man in the British Army, or the luckiest. Warrant Officer 1 Patrick Hyde has been blown up 17 times by insurgents - but has escaped serious injury on each occasion.
The soldier, who has been nicknamed "bomb magnet", has been awarded the Military Cross for his actions after the latest attack, on July 19 last year, when he helped to co-ordinate the evacuation of the injured as well as a senior Afghan general and his men, as he lay wounded on the ground.
Hyde, 37, from Cheltenham, was blown up in the Helmand district of Afghanistan after going to retrieve his commanding officer, Lieutenant Colonel Tom Bewick, from a compound that he suspected had been rigged with explosive devices.
The soldiers were part of a British force of around 100 called in to assist an Afghan National Army (ANA) unit of around 800 as it moved in to quell a major offensive by insurgents in the Sangin district.
The force had come under fire, so Brigadier General Shirin Shah, the Afghan general leading the operation, sought refuge in the compound. Bewick, who was playing an advisory role, followed him in.
But when Hyde reached the scene he suspected it was a trap. He reported his concerns to Bewick, who agreed to leave. An Afghan soldier walked in and stood on a concealed improvised explosive device (IED), halfway along the alleyway.
"I saw the guy's foot go down. It was in the middle of the alleyway, where at least 15 men had walked over it," he recalled.
"It was all quiet while the dust settled. I thought my leg had gone. It felt like a dead leg. I couldn't feel my hand. I couldn't feel anything down my left side. I reached for my tourniquet, for my leg, but the CO [commanding officer] told me it was still there."
The Afghan had lost a leg, while another had facial injuries. Hyde had shrapnel wounds to his left leg, stomach, left hand and the right side of his face. The wounded were airlifted to Camp Bastion. All survived.
Of his repeated encounters with IEDs, Hyde, who has a son, Henry, 8, and a daughter, Evie, 5, and has been in the Army for 21 years, said: "I don't like driving a desk. I want to be a soldier. But I might get run over, or fall down stairs. I reckon I will die in a really stupid way."
Patrick Hyde: The "bomb magnet"
21 years a soldier
17 times blown up
11 times hit in Afghanistan during a tour for six months in 2009-10
500 attacks and and 200 IED incidents faced by his unit