Military radar powerful enough to have spotted unidentified aircraft from Asia.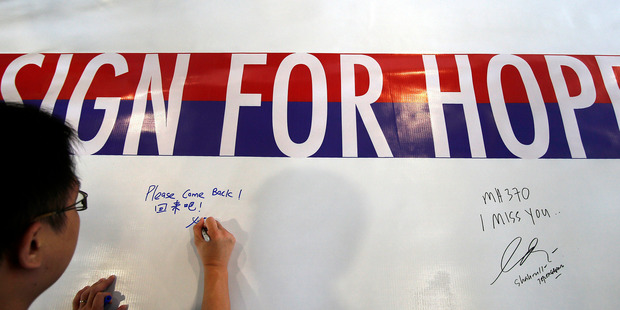 Australia's military is remaining tight-lipped over suggestions that the last-known position of the missing Malaysia Airlines plane was around 1600km west of Perth.
According to several reports, US investigators believe the Boeing 777 had "most likely" flown south over the Indian Ocean when its final signal was picked up more than seven hours after take-off.

Although Australia has limited civil aviation radar coverage beyond its coastal borders, the military can track air and sea activity up to 3000km north and west into the Indian Ocean.
Top brass are refusing to be drawn on whether an unidentified plane was spotted in the hours after Flight MH370 vanished, or checked for in the days since.
But a Royal Australian Air Force surveillance plane has now been sent to look for wreckage in remote ocean around 1,600km west of the Australian mainland.
The AP-3C Orion will focus on deep waters around the sparsely-populated Australian-administered Cocos Islands.
Defence force chief David Hurley said Malaysian authorities leading the hunt had requested the deployment as part of the massively expanded search effort.
Data communications picked up by a commercial satellite suggest the plane may have flown along one of two arcs; either north-west towards central Asia or south-west across the Indian Ocean.
According to several reports, US officials involved in the investigation believe the Malaysian plane probably flew south until it ran out of fuel and crashed into a remote area of the Indian Ocean west of Australia. By now, any floating debris would have been swept far from the crash site.
In a statement released last night, General Hurley said: "Today one RAAF AP-3C Orion commenced searching the Indian Ocean to the north and west of the Cocos Islands.
"This aircraft is expected to recover to the Cocos Islands overnight and launch from that location on Monday to maximise mission time in the expanded search area."
The announcement came after prime minister Tony Abbott confirmed Australia's two surveillance aircraft would shift focus to the Indian Ocean. A second RAAF Orion is continuing to search waters west of Malaysia.
"[The aircraft] will be appropriately retasked given the changing search patterns," said Abbott. "If the Malaysians want additional help, we certainly stand ready to supply it."
The Australian military's Jindalee Operational Radar Network is one of the region's most sophisticated and powerful surveillance networks.
Experts believe the system that has been used recently to successfully track asylum seekers in waters north-west of Australia would likely pick up any unidentified aircraft flying south from Asia.
On Saturday a spokesman for Defence Minister David Johnston told Bloomberg he hadn't heard of any trace of the plane being picked up by Australia.
"We have contacted the Malaysians to tell them we are aware of the reports. But it is a Malaysia-led operation and it's up to them if they think it's something they want us to look into," he said.
General Hurley said the two Australian planes had spent more than 51 hours searching for the plane to date.
"The Australian Defence Force continues to work closely with the Malaysian authorities coordinating the international search mission," he said.