Abbott Government riding sea of blue as Liberals take Tasmania while South Australia hangs in the balance.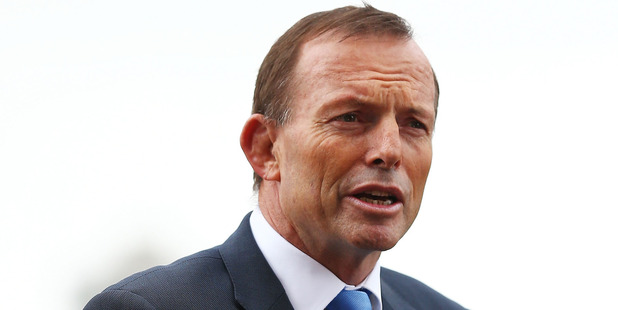 With a sweeping Liberal victory in Tasmania and another hanging in the balance in South Australia, Prime Minister Tony Abbott faces two more major tests.
If independents and postal votes nudge SA Liberal leader Steve Marshall over the line, Abbott's federal Government will sit atop a nationwide plateau of blue, with Labor holding power only in the Australian Capital Territory.
If Labor survives with the help of one of the two independents re-elected on Saturday, or as a minority government, Abbott will still have Liberal administrations in the states holding the vast majority of Australia's wealth and population.
The weekend's two elections were fought heavily on state issues. But given the emphasis Labor placed on linking state Liberal parties with Abbott's policies, and Liberal policies that closely mirrored those of the Federal Government, the outcomes are to some degree a litmus test of the nation's mood.
This will be tested far more significantly on April 5, when West Australian voters return to the polls for a rerun of last September's election, ordered by the Supreme Court after almost 1400 ballots vanished during a recount.
The election will decide the final shape of the new Senate that will begin in July, with the possibility that one side or the other might achieve ascendancy.
Complicated by a multiplicity of micro-parties, the original national vote ended the Greens' balance of power in the Upper House that allowed its Senators to join Labor in blocking Government legislation.
Together they have frustrated Abbott's planned axing of the carbon and mining taxes, as well as a number of other moves.
As numbers stand, the balance of power is now held by mining magnate Clive Palmer's United Party, in alliance with the Victorian Motoring Enthusiasts Party's sole Senator.
Although still fraught with difficulties, Abbott would have a better chance of pushing his controversial bills through the Upper House.
Much now depends on the new WA election, which is being fought against a background of voter fatigue - the fourth poll in a year - and a fierce battle over competing policies.
In November Victoria goes to the polls with a grim outlook for Liberal Premier Denis Napthine, who holds power by a single-seat majority. Last month a Newspoll showed Labor leading the Liberals by 53-47 per cent, confirming earlier polls.
The loss of Australia's second-biggest state to Labor would be a psychological blow for Abbott.
But in Tasmania, capitalising on a mood for change after 16 years of Labor and its unpopular alliance with the Greens, Liberal leader Will Hodgman cruised home with a thumping majority of at least 14 of the State Parliament's 25 seats.
Labor collapsed under a 10 per cent swing away from the party and will lose between two and four of its former 10 seats, while the Greens were hammered by an 8 per cent swing that could dump two of its MPs.
The new Government will embark on a new conservative path modelled on Abbott's policies, including the controversial axing of a forestry deal that brought peace to the timber industry by incorporating more forest land under World Heritage protection.
"Make no mistake," Hodgman said. "Tasmanians have voted for a change of direction and we will be a Government that brings that change."
In South Australia, the final vote will not be known until 170,000 postal votes have been counted, probably this week, leaving the state uncertain of its next government.
Greens preferences and support in key marginal seats staved off the clear Liberal win forecast by many polls, with the ABC's election computer predicting 20 seats for Labor, 19 for the Liberals, and two independents.
If postal votes do not provide a decisive outcome, the final shape of SA's political landscape will be decided by the independents, now being openly courted by both Labor and the Liberals.
Although neither has indicated who he will support, one independent, Geoff Brock, sided with the Liberals in more than 80 per cent of votes in the last parliament. The other, Bob Such, is a former Liberal.
The Labor years
Tasmania
16 years in power
Labor led by Lara Giddings
South Australia
12 years in power
Labor led by Jay Weatherill
New South Wales
16 years in power until 2011
Queensland
14 years in power until 2012.