The country's first female leader sets her sights during an emotional return to office.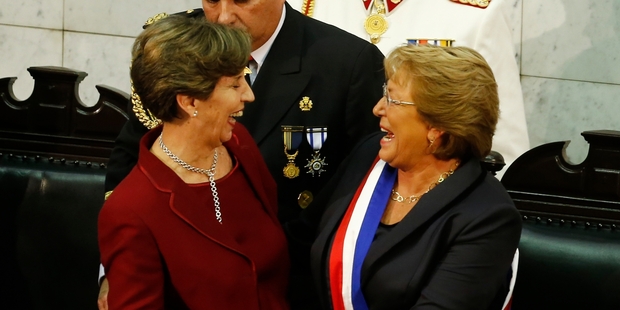 Socialist Michelle Bachelet has promised to tackle inequality as she returned to power in Chile after four years.
"Chile has but one great enemy and its name is inequality. Only together can we take it on," the president said as she took the oath of office. The 62-year-old was sworn in at a ceremony in Congress.
"Yes, I promise," she said as she took the oath from new Senate leader Isabel Allende.
Allende, the daughter of ousted president Salvador Allende who died in a 1973 coup, handed Bachelet the presidential sash and fervently embraced the returning president.
"The historic image of two women simultaneously occupying the two highest positions of state will go around the world," Allende said earlier.
Gathered for the transfer of power were presidents from around the region as well as US Vice-President Joe Biden.
Bachelet was Chile's first female president the first time she held the office, from 2006 to 2010.
In this second stint, she will have a chance to cement her legacy as a transformative leader who experienced first-hand the horrors of the 1973-90 Augusto Pinochet military dictatorship.
During that period, Bachelet was tortured, fled the country and then returned years later to work as a paediatrician, eventually entering politics.
Her father died after being tortured for remaining loyal to leftist president Allende in the 1973 coup that saw Pinochet come to power.
She returned to Chile last year after three years in the US, defeating conservative Evelyn Matthei in December elections. During the campaign, she promised to reform Chile's education system, its taxes and write a new constitution.
She has the congressional majority needed to approve the tax reform, but must form alliances with the opposition and independents for the education and constitutional reforms.