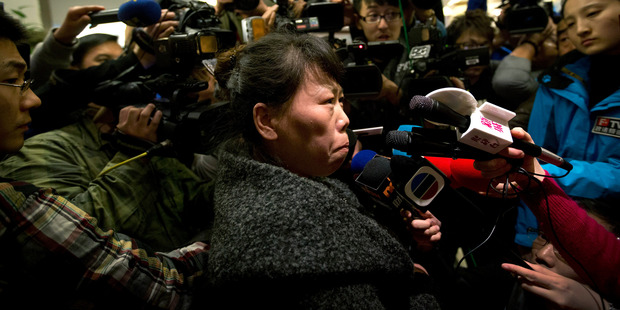 Mystery men identified
Within hours of the disappearance of flight MH370, investigators began to hone in on two men who boarded the plane using stolen passports.
Today, their identities were revealed.
Pouria Nour Mohammad Mehrdad, 19, and Delavar Syed Mohammad Reza, 29, are both from Iran. They traveled from Iran to Malaysia using their own passports, then switched to stolen Austrian and Italian documents.
Interpol secretary general Ronald Noble issued a photo of the pair to media this morning.
However, he said the discovery was not a breakthrough. Information uncovered about the men made it seem less likely that terrorism was behind the plane's disappearance, he said.
Military tells new story on jet's final location
The massive search effort for flight MH370 has focused for days on a 100 nautical mile area off the coast of Vietnam.
Today, Malaysia's air force chief, General Rodzali Daud, revealed search teams may have been looking in the wrong place.
He said information gleaned from military radar differed from that recorded by civilian authorities.
It had tracked the plane to Pulau Perak, near the Strait of Malacca, before losing track of it at about 2:40am.
The busy waterway between Malaysia and Indonesia is hundreds of kilometres east of the official search area.
CIA won't rule out terrorism
CIA Director John Brennan today admitted terrorists may have struck flight MH370.
There were reports that claims of responsibility had been made for the jet's disappearance, but those were not confirmed, he said.
"I think there's a lot of speculation right now - some claims of responsibility that have not been, you know, confirmed or corroborated at all,'' he said.
"We are looking at it very carefully.''
Brennan's statement was the first acknowledgement by a US official that anyone had claimed responsibility for the jet's fate.
First Officer had checkered past
The first officer on board the missing flight had a history of inviting people into the cockpit, it was revealed today.
Fariq Abdul Hamid, 27, had asked South African women Jonti Roos and Jaan Maree to spend an hour-long flight at the front of the plane in 2011.
Roos told Australia's Nine network the pilot was "possibly a little bit sleazy", smoking throughout the flight and asking the pair whether they could stay a few extra nights in Kuala Lumpur.
She provided a photo of herself and Maree in the cockpit with Hamid.
Malaysia Airlines said it was "shocked" by Roos' allegations.
Witnesses saw 'lights'
Two fishermen have reported seeing the lights of a low-flying plane off the coast of Malaysia in the early hours of Saturday morning.
One said he saw a plane flying so low that the lights were "as big as coconuts" near Kuala Besar at 1:30am.
Another man, about 30km south of Kota Baru, reportedly saw bright lights from a fast-descending aircraft at about 1:45am.
However, the stories do not mesh well with military radar data which puts the plane's final signal at 2:40am.
- nzherald.co.nz