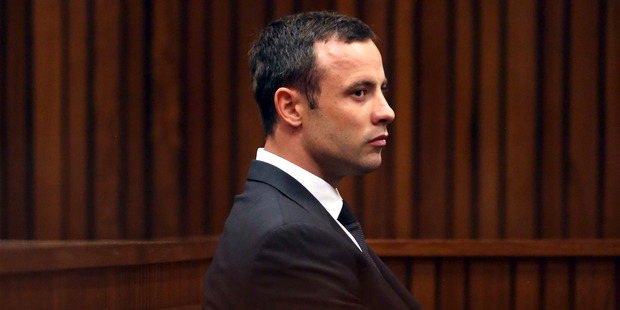 On the evidence to date, Oscar Pistorius' version of events does not match what his neighbours think they heard. But what his neighbours heard doesn't match several facts of the case.
Under intense questioning from Pistorius' terrifying defence counsel Barry Roux, Pistorius' neighbours, Dr Michelle Burger, an academic, and her husband Charl Johnson, an IT worker, would not shift one iota from their story. They said they were awakened in the night by the sound of a woman's "blood-curdling screams", the sound of a man screaming for help, then the sound of gunfire and more screams from a woman.
Why would a man scream for help before the shots had been fired? Burger contested it was perhaps "a mockery". Pistorius covered his ears while his counsel pointedly stated that the medical evidence shows head injuries to Steenkamp so extensive she would have had "no thought process, no cognitive function" and yet the neighbour claims to have heard her screams, from behind a locked toilet door, 177m away.
Could they have slept through the gunfire? Could the woman's screams in fact have been Oscar's "high-pitched screams"? At one point Roux suggested we will hear from an expert witness over the matter of Pistorius's woman-like screams. Could the gunshot they thought they heard have been Pistorius breaking down the door with a cricket bat? "I know what gunshot sounds like," Burger said. "What I heard was gunshot."
One person who has heard Pistorius shouting is his ex-girlfriend, Samantha Taylor, a 20-year-old student and part-time model. "I have heard him scream a few times. It's not true [that he sounds like a woman]. He sounds like a man."
She broke down when attempting to speak of how the pair broke up after Pistorius' infidelity with Reeva Steenkamp (a suggestion Pistorius denies). Taylor was also in the car when Pistorius offloaded his pistol through the open sunroof, in anger over having been stopped by police.
Pistorius has pleaded not guilty to this and another firearms offence. The state has made him appear reckless and trigger-happy. But it is a long way from there to intentionally killing his girlfriend.
If he did do that, it was made harrowingly clear how much he immediately regretted it. Another neighbour, Dr Johan Stipp, a radiologist, said he found Pistorius praying over Steenkamp's "mortally wounded" body, and of how he was "screaming that he would dedicate his life to God if he would let her live". Pistorius told him, crying: "I thought she was a burglar, and I shot her".
More witnesses who will attest to Pistorius's jealous nature and furious temper are expected this week, not least the former footballer Mark Bachelor, who claims to have heard the athlete threaten to break a man's legs. We may even hear from Pistorius himself. Independent