Aislinn Laing in Pretoria witnesses the dramatic twists and turns in a case that is gripping South Africa.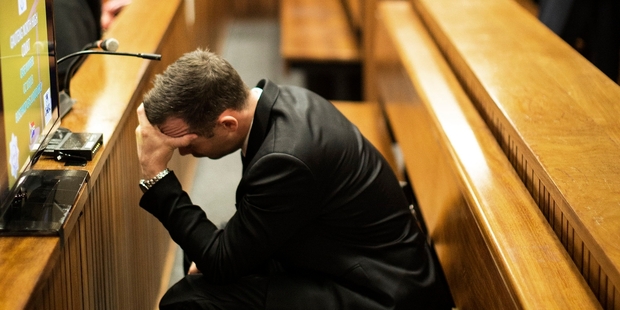 It was one of the odder moments in an already extraordinary trial. And no one knew quite what to do.
A teenage boy, brought into the court by his barrister father during a tea break, stood grinning next to Oscar Pistorius, having already shaken hands with him earlier. As he shifted expectantly from foot to foot, it became apparent that he was waiting for the go-ahead to snap a promised "selfie" - before being shooed away by Pistorius' legal team.
For Pistorius, it was a reminder of what he once was: a globally renowned athlete who, with boundless drive and ability, shattered sport's glass ceilings and won sponsorships from the world's biggest brand names. Little over a year ago, he was a hero for many young South Africans - a poster boy for achievement about whom they were frequently taught in school. Now, having shot dead his girlfriend on St Valentine's Day last year, he is the suspect in the country's most sensational murder trial.
The first week of what is expected to be a six-week hearing started with Pistorius' legal team adopting the strategy that the best form of defence was attack. In an opening statement read out to the court, Pistorius spoke frequently about the "truth" - and how the prosecution was on the wrong side of it. "The state has no basis whatsoever for alleging that I wanted to take Reeva's life," the 27-year-old athlete said. "They have embarked on a strategy to rely on unsubstantiated allegations in an endeavour to prove that I wanted to kill Reeva."
He said that calling as witnesses old girlfriends and men with whom he had had fights was akin to character assassination, and that the defence would also highlight the way the crime scene had been "contaminated, disturbed and tampered with" by South Africa's oft-criticised police. His lawyer, Barry Roux, continued the attack, with abrasive cross-examinations that saw him ticked off on more than one occasion.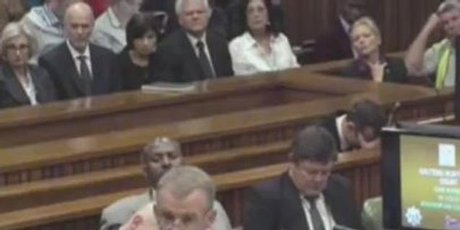 Yet in many ways, the prosecution team is on the back foot. It has the right man in the dock, since Pistorius has admitted killing Steenkamp. But as he is the only witness to what happened, the evidence on which the prosecution must rely is largely circumstantial. Only one person knows exactly why Steenkamp was killed - and with no jury system in South Africa, just one person, Judge Thokozile Masipa, has the unenviable task of divining his reasons.
The facts of the case are that Pistorius shot at Steenkamp four times through a locked lavatory door at his home on a Pretoria security estate in the early hours of February 14. Bullets from his powerful 9mm Parabellum pistol burst through the door, hitting his girlfriend of three months in the hip, arm and head. They killed her almost instantly. Pistorius then bashed down the door with a cricket bat and pulled the 29-year-old out, phoning the estate manager and friends seeking help.
At issue is whether Pistorius fired the shots at Steenkamp in a rage over an argument, as the prosecution contends, or whether he did so thinking she was an intruder. Depending on the judge's decision, he could walk out of court a free man - or be sent to one of South Africa's notoriously tough jails for a mandatory 25 years.
The trial has transfixed South Africa. Thousands tune in each night to the Oscar Channel - a dedicated channel set up by a cable TV network - to feed on each detail, which is then discussed relentlessly in bars, cafes and on the daily commute. This is also the OJ Simpson trial for the Twitter age. Like every other reporter who tweets the trial from court, everything I post is retweeted by people who then fire back questions and their own analyses.
Outside Pretoria High Court, in the autumnal rain that has poured down since the trial started, an army of broadcasters huddle under tents. No day's evidence finishes without US television anchors proclaiming their own verdict.
On the evidence so far, it boils down to three key questions.
Could the high-pitched screams heard on the night Steenkamp died have been those of Pistorius? If they were Steenkamp's, it would reinforce the prosecution's case that he killed her in anger; the defence says they were his.
Were neighbours actually close enough to have heard the gunshots that killed her? Two witnesses claim that a woman was heard screaming before a second set of gunshots - suggesting Pistorius knew who he was shooting. The defence says the second set of bangs was in fact Pistorius, realising he had shot Steenkamp by mistake through the door of the locked bathroom and then smashing it down with the cricket bat.
Finally, was there a light on when the shots were fired? If so, the defence claim that Pistorius could not see where he was shooting seems less likely. Pistorius insists he was "too scared" to turn on the lights, until he realised he might have shot Steenkamp.
The Pistorius family have never entertained the possibility that he intended to kill Steenkamp and is holding out for an acquittal. But given the additional option of a culpable homicide charge available to the judge if she cannot be sure it was murder, such an outcome seems unlikely.
Pistorius's brother Carl keeps up his brother's spirits with motivational tweets. On the morning the trial started, he quoted JRR Tolkein: "You can only come to the morning through the shadows."
Their sister Aimee broke the ice by going over to talk to Kim Martin, Steenkamp's cousin, who was sitting on the other end of the family bench. Her approach was welcomed after the disappointment expressed by Steenkamp's mother, June, that Pistorius wouldn't even look at her when she attended the first day of the trial. The trial has shone an uncomfortable spotlight on the private life of Pistorius and those around him. A former girlfriend, Samantha Taylor, told the court how he had been an angry boyfriend obsessed with security and guns, and how their relationship broke down after he cheated on her with Steenkamp. Taylor was confronted by Roux, who told her he had emails to prove that she too had been unfaithful.
Although Pistorius has largely dispensed with the tears that fell so readily during his early bail hearings, his composure has sometimes slipped. Any reference to the injuries he inflicted on Steenkamp prompts him to cover his eyes and block his ears. But as the week drew to a close, even Pistorius seemed to feel a sense of reprieve. As the court rose, I muttered "Thank God it's Friday". Pistorius turned to me, raised his eyebrows and smiled briefly, before heading out into the cameras once more.