Reports of beatings and abuse on islands where Australia is sending asylum-seekers.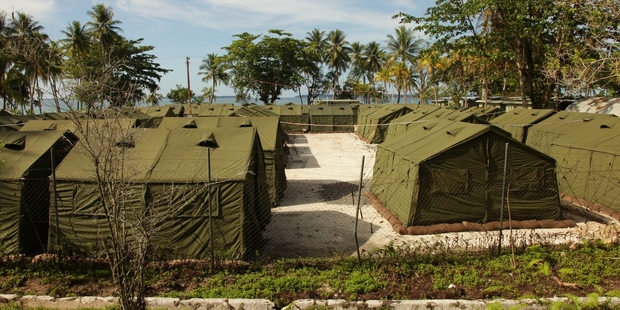 Tales of brutality, ill-treatment and appalling conditions are emerging from Australia's asylum-seeker detention centres on Nauru and Papua New Guinea's Manus Island, whose barbed-wire compounds are barred to all but a few approved visitors.
The Government's dense cloak of secrecy has been pierced by video footage and eye-witness accounts of the recent Manus Island riot which killed one Iranian detainee and injured more than 60 others.
Other graphic accounts of daily life, backed by videos and documents, have also begun casting a harsh new light on the camps where inmates face indefinite detention, possibly for years.
Reports condemning the camps and the policies under which they were established have already been published by bodies including the United Nations, the Australian Human Rights Commission and Amnesty International.
Three new inquiries by Australian and PNG authorities are investigating the causes and handling of the Manus Island riot, and this week the Senate voted to set up its own inquiry.
It intends taking evidence from detainees, but it is uncertain if even Senators will be allowed into the camp. If they are not, the inquiry will take evidence by teleconference.
Although the Opposition backed the Senate inquiry, it has no claim to any moral high ground. Labor re-opened Nauru and Manus and toughened mandatory detention.
Many of the problems now facing the Coalition Government began under Labor which also faced international condemnation. A riot at Nauru last year, when the camp was torched by detainees, occurred on its watch.
Labor continues to back mandatory offshore detention for asylum seekers arriving by boat from Indonesia. Its focus is instead on gaining political mileage from the way in which Immigration Minister Scott Morrison is managing the policy.
With the Government's policy of strict secrecy confirmation of many of the claims is not possible. But the rising flow of film, eye-witness and documentary evidence points to conditions and treatment of detainees that at times borders on barbaric.
The latest descriptions of the Manus riot have come from an Australian employee of the security company running the camp, G4S, who spoke on condition of anonymity to the ABC. The employee said PNG police had allowed locals to break into the camp and beat detainees, at times joining a "frenzy of out-of-control violence" by going room to room and robbing asylum seekers at gunpoint.
He said locals had broken in with machetes, rocks, sticks and poles from exercise weights.
"Once they knocked people to the ground, they were stomping on their heads with their boots. A day later you could still see guards and staff and cleaners walking around with blood on their boots."
Wounded detainees were evacuated to a wharf which was packed from end to end. An emergency tracheotomy was performed in the open. "There were people moaning ... it was terrible."
An investigation by SBS' Dateline programme, supported by trauma counsellor Sue Todd and two former Salvation Army employees identified as "Claire" and "Marie", documents and video footage, raised further disturbing allegations of brutality on both Manus and Nauru.
Dateline was told detainees lived in squalor and were refused cleaning equipment "for safety reasons ... any sort of reason really". They lived in barracks with double bunks and sheets strung for privacy.
Complaints of sexual abuse were ignored. One guard said in response to a complaint: "He's gay. He wants it." When detainees complained of dirty drinking water they were told: "It's good enough for you. Why would you expect clean drinking water?"
Medical notes obtained by Dateline frequently held assessments such as "deterioration of mental health" ... "he displays acute distress and detention fatigue - unravelled after only week" ... "severe psychological symptoms of self-harm and suicide".
On one occasion locals tried to scale the fence with machetes. Detainees were padlocked inside the compound and left to their own devices.
On Nauru, families live in tents using sheets and dividers in temperatures at times reaching 50C.
Movement between compounds is tightly controlled: video footage showed a girl of about 4 or 5 being screened with a metal detector.
Claire saw numerous cases of self-harm: "There were hangings, men cutting their stomachs open with glass, cutting their wrists, cutting their necks, trying to suffocate themselves with plastic bags, stitching their lips, cutting across their eyes."
Women tried to escape because they could not get sanitary items or underwear and felt degraded.
Complaints about overcrowded toilets met with responses such as "I hope they get dysentery" ... "I hope they're sick. That's what they deserve".
After last year's riot, Nauru guards posted messages on social media, such as, "It's all sweet now. They had their moment of fun and then we had ours and f*** it was sweet justice" ... "If they want to f***ing act like criminal dogs they can f***ing die like it now".
Despite the secrecy, the spotlight on the camps is growing brighter.