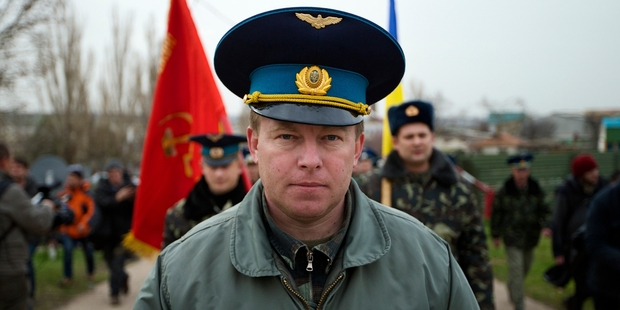 He wears a rumpled olive green jacket over his camouflage fatigues, and his only badge of rank is the outsized-cap that distinguishes officers in armies across the former Soviet Union.
But the former fighter pilot in charge of the Ukrainian air force's Belbek base near Sevastopol is probably the most famous serviceman in any of those armies.

"Yes, I know," said Colonel Yuli Mamchur, shifting his weight a little uncomfortably from foot to foot. "I get people trying to call at 2am. I'm no hero. I'm a military professional doing his job."
But Mamchur's bold - some would say reckless - march against Russian soldiers occupying his airbase on Tuesday was one of the most remarkable acts of resistance in the strange phoney war gripping Crimea.
His encounter with Russian troops began on February 27, when masked men in unmarked uniforms arrived and told him they had orders "to take the base under their control".
There was never any question of fighting.
Faced by what he believes are special forces soldiers, armed with machineguns and Kalashnikovs, Mamchur resolved that no blood would be shed on his watch. "I wasn't going to see my men slaughtered. I decided to negotiate," he said.

Early on Tuesday, the officers and men of the brigade agreed to march behind him, unarmed, back to the occupied aerodrome and demand to be allowed to return to work.
"It was a gamble. We're soldiers and we have our duty to fulfil. So are they, and they understand that. We just wanted to get back to work," he said.
The 1.67m, 42-year-old colonel's march led to a five-hour stand-off in which the Russians fired warning shots - their first of the occupation.
The Russians didn't let the Ukrainians return to work, but they did agree to allow some of Mamchur's men to patrol the aerodrome with them. For now, though, the Ukrainians are largely confined to their residential buildings and command centre in the village of Lubymovka.
Born and raised in central Ukraine, Mamchur flew fighter jets as a young man and was steadily promoted. Two years ago, he was given command of his own squadron, the 204th tactical aviation brigade.
He and wife Larissa settled easily into Crimean life. Their daughter moved down with her daughter and they got on well with the neighbours.
"We love it here," said Larissa Mamchur. "It's one of the best cities in the world. We love Sevastopol, Crimeans are wonderful. And in all our time here there was never any kind of tension between Russians and Ukrainians and Tartars." Larissa Mamchur, who is half-Russian, blamed a barrage of Kremlin propaganda for creating and stoking artificial tensions between ethnic Russians and others on the peninsula.

For many service families, the idea of finding themselves in confrontation with Russians - their neighbours, relatives and, for the soldiers, previously their allies - is almost as absurd as it is frightening.
"It makes no sense. I can't even say whether I am Ukrainian or Russian - it's not a choice any of us can really make. We've all got relatives on both sides," said Mamchur. "When all this started we got calls from friends in Moscow who were simply in shock."