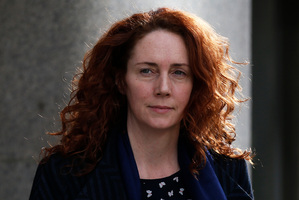 Britain: Rebekah Brooks told a court she had made lots of mistakes while editing the Sun, resulting in coverage that was cruel, brutal and in bad taste.
The former chief executive of Rupert Murdoch's UK print division made the admission on the fifth day of her defence in the phone hacking trial in the Old Bailey.
Mistakes she mentioned included: Bonkers Bruno locked up. The paper ran that headline in 2003 after boxer Frank Bruno was admitted for psychiatric treatment.
Brooks told the court she had approved the wording, but her then-partner, actor and journalist Ross Kemp, questioned how brutal it was.
Brooks then called the newsroom to have it changed and said yesterday she had made a terrible mistake.
Brooks also admitted it was cruel to describe Clare Short as fat and jealous after the Labour MP campaigned against The Sun's page 3 photographs of topless women.
She also said that during The Sun's attacks on the Haringey children's services chief Sharon Shoesmith after the death of baby Peter Connelly in 2007 balance went right out the window.
And Brooks said it had also been in bad taste to report the death of Harold Shipman with the headline, Ship ship hooray.
-The Independent