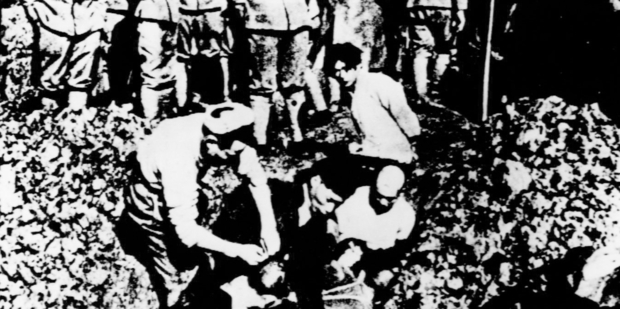 China is drawing attention to Japan's actions in World War II by creating a new holiday to mark the Nanjing massacre and trying to make the war a central theme of a presidential trip to Germany this month.
State media in China reported Thursday that the National People's Congress, the rubberstamp Parliament, had designated September 3 as victory day and December 13 as a day to remember those killed when imperial troops raped and pillaged the then-capital of Nanjing.
Beijing is using the media to contrast Germany's atonement with what Beijing sees as Japan's failure to apologise adequately for its role in the war and its imperialist expansion, including the 1937 massacre.
Last month, journalists were taken to the site of a Japanese prisoner-of-war camp in northeast China and, last week, officials guided journalists around Nanjing, the former Chinese capital.
Beijing claims about 300,000 people were killed there following the Japanese invasion in 1937. An international post-war tribunal put the number at 142,000 but some Japanese officials still claim it didn't even happen.
During the two-day tour, Communist Party officials and academics made continuous allusions to the Holocaust. Xu Jingjing, a museum guide, ushered journalists through a dimly-lit exhibit filled with gruesome images of burned and mutilated bodies entitled A Human Holocaust.
"We've looked at the mass massacres, now let's look at the random killings," she said, moving into a room featuring a photograph of a Chinese man who had been decapitated by the Japanese before having a cigarette stuffed into his mouth.
Officials also arranged an interview with an octogenarian survivor of the massacre called Xia Shuqin, who recounted witnessing the Japanese slaughter her family.
"My mother and my little sister were both killed by Japanese soldiers," she said, wiping tears from her eyes with a handkerchief.
"They shot my grandparents. The blood was all over the wall."
Xi Jinping, China's President, is due to visit Germany this month.
There has been no official word as to why Beijing wants to emphasise wartime issues, including a suggested presidential visit to Berlin's Holocaust Memorial.
Relations between Beijing and Tokyo have deteriorated rapidly recently because of escalating frictions over disputed islands in the East China Sea, known in China as the Diaoyu and in Japan as Senkaku, and the toxic legacy of Japan's military exploits in 1930s China.
Japan's leaders have in the past expressed regret for their country's wartime actions in Asia, including a landmark 1995 apology by Tomiichi Murayama, the then-Prime Minister. He sought forgiveness for the "tremendous damage and suffering" caused by Japanese troops in the region.
However, such statements have been undermined by politicians and academics who have played down or denied the Nanjing massacre. Last month, Naoki Hyakuta, a board member of NHK, Japan's state television broadcaster, provoked fury in Beijing by claiming it had "never happened".
A diplomatic source who has been briefed on China's plans for the Xi trip told Reuters that "China wants a strong focus on World War II when Xi visits Germany and Germany is not happy".A second diplomatic source said: "The Holocaust is a no-go area."