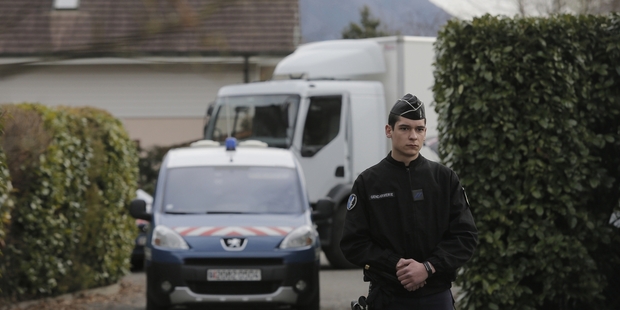 Theories about the al-Hilli killings in the French Alps have been upset by the arrest of a local man - a former policeman described as a gun-loving hillbilly.
The 48-year-old man is believed to be the motorcyclist who was seen close to the area where three members of an Iraqi-British family and a French cyclist were killed above Lake Annecy on September 5, 2012.
Investigators said that he was being questioned as a witness and should not be described as a suspect at this stage. They also spoke, however, of a significant breakthrough in the complex, 18-month-old investigation which has chased possible links with Britain, Iraq, Switzerland, Sweden, Spain and the United States.
At least seven other local people may be arrested for acting as a criminal gang, according to authorities. It is unclear whether they will be accused of involvement in the murders or whether they are thought to have conspired to cover the tracks of the suspected murderer.
The official spokesman for the investigation, Eric Maillaud, the Annecy state prosecutor, said that the arrested man had no connection with any of the victims.
He refused to identify him but sources in the investigation described him as a hillbilly, a lover of guns and a silent man who lived on the margins of society.
He had once been a municipal policeman in the nearby town of Menthon Saint-Bernard but had been dismissed from the force and now worked in Switzerland.
The man, who was in custody at the regional gendarmerie headquarters in Chambry, can be held for up to four days. Gendarmerie raided his home in La Thuile, a few kilometres from the crime scene. They later dug up the garden of another house that he owns in the neighbouring village of Talloires, using spades and a metal detector.
After an inquiry in half a dozen countries and three continents, it now appears that the key to the al-Hilli mystery may have been found within a few kilometres of the murder scene. If so, the French investigators could have some explaining to do.
The man under arrest bears a strong resemblance to a man in a motorcycle helmet shown in an identikit image which was released by investigators in November last year. It remains unclear why the French inquiry waited 14 months to publish this image.
Forestry workers told gendarmes at the time that they had seen a beefy man with a beard on a private road in the mountains just above the crime scene on the afternoon of the murders. He was wearing a rare type of motorcycle helmet with a sideways opening. Independent