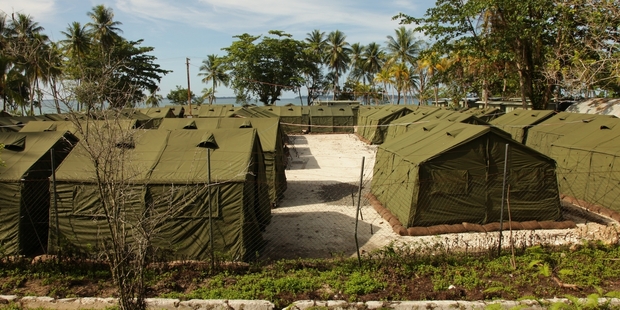 Australia's offshore detention policy is under intense scrutiny again after a night of violence at the Manus Island centre left one asylum-seeker dead, another with a fractured skull and at least 75 others injured, 13 of them seriously.
Detainees told refugee advocates they were attacked by armed gangs of police and locals who stormed the facility in Papua New Guinea, wielding guns, knives, sticks and machetes.
But Scott Morrison, the Australian Immigration Minister, rejected those claims, saying trouble erupted after asylum-seekers broke out of the centre.
The conflicting accounts of events late on Monday and early yesterday left key questions unanswered - in particular, who carried out the attacks, in or outside the centre; and how can the safety of those sent there for processing be guaranteed in the future? What seems undisputed is that tensions had been rising for weeks at the remote facility.
Just 24 hours before this latest and most serious incident, detainees tore down fences and smashed bunk beds during a riot which saw 35 people escape and 19 treated for injuries.
About 11pm local time on Monday, according to accounts given to Ian Rintoul, of the Refugee Action Coalition, "gangs of armed police and locals ... acting in concert in some way ... went from compound to compound, hunting down asylum-seekers and inflicting very serious injuries ... [carrying out] "systematic attacks, savage attacks". The disturbances continued until about 3am. "One person, we were told, was actually thrown off the first floor of one of the buildings," Rintoul told the ABC. And he said that if people had been outside the perimeter fence that night, "it's because they've fled for their lives".
One account was given to Fairfax Media by Ghulam Murtaza, whose brother is on Manus. Murtaza said his brother telephoned on Monday night, weeping, terrified and bleeding. He told him villagers had entered the compound, and said: "I am covered in blood ... they will kill us."
However, a PNG journalist, Nick Solomon, said it was local staff of the G4S security company which runs the centre - and not villagers - who had attacked asylum-seekers, using iron bars and machetes.
The minister, while extending his sympathies to relatives of the man who died of a head injury on his way to hospital, appeared to blame detainees.
"If people choose to remove themselves from that centre, then they're obviously putting themselves at much greater risk and in an environment where there is violent behaviour."
He also appeared to defend the actions of PNG police, telling reporters in Darwin: "When there are people who are charged ... to maintain law and order in that situation, now if you behave ... in a disorderly way, then you subject yourself to the response of law enforcement."
Yesterday Australia's Human Rights Commissioner, Gillian Triggs, said the Government was failing to meet its international obligations to protect asylum-seekers. When people were kept in such conditions, she added, it was inevitable they would suffer stress and mental problems that could sometimes lead to violence.
Morrison pledged that a full investigation would be carried out by PNG authorities.