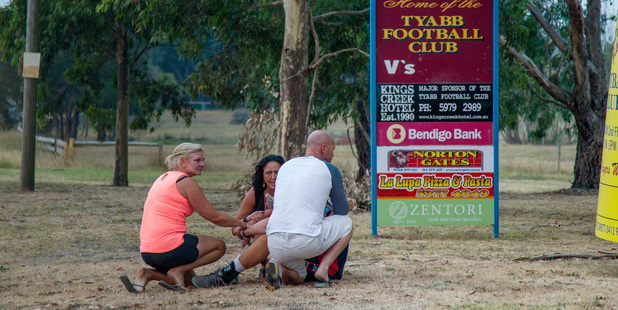 An estranged father who killed his 11-year-old son in front of shocked children and parents after cricket practice has died after he was shot by Victoria police.
Police were called to the Tyabb cricket oval on the Mornington Peninsula on Wednesday evening after the boy was critically injured. The boy died at the scene.
His father, who was armed with a knife, was shot once by police after capsicum spray failed to subdue him. He died in the Alfred Hospital at 1.30am (AEDT) on Thursday.
Police are yet to confirm the details of how the boy was killed.
"I can't go into the details on what the injuries were for the young boy, but (they were) significant injuries," Commander Doug Fryer said.
"Forensic examination has been done at the scene and we're just putting the pieces together still."
The boy's mother was at the scene on Wednesday night and police have been speaking to her throughout the night.
"I said last night I don't know how a mother gets past losing a son in these sorts of ways," he said.
"But she had friends there to support her and she is certainly assisting police.
"What she saw and the offence that unfolded will play out in the Coroners Court sometime to come."
Commander Fryer said police acted in accordance with their training.
"It was certainly a dynamic situation, they were confronted with a critical incident and they used the options they thought best."
The boy was in year six at Flinders Christian College.
Executive principal Jill Healey said the school was bringing in extra counsellors and chaplains to support students.
Many local schools and churches were helping as well.
"We are well prepared today for caring for the grief that will obviously be in the school community," she told Fairfax radio.
"Support us with love and prayer especially for the family."
Professional standards and the homicide squad are among those investigating.
- AAP