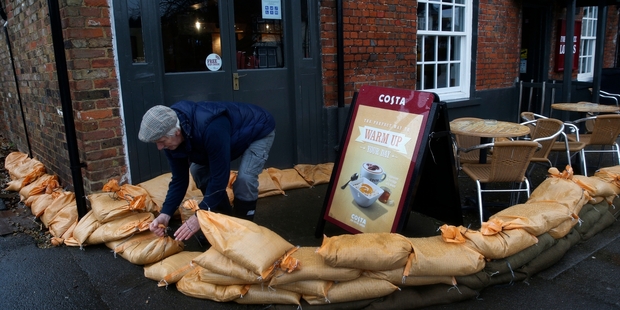 Britain's flooding crisis may get worse before it gets better, Prime Minister David Cameron has admitted, as stricken communities were warned that the waters may not recede until May.
After returning from visiting the worst-hit areas in the Southwest and along the Thames, the Prime Minister said the country was "in for the long haul" to repair the storm damage wrought by the wettest winter since the 18th century.
He pledged "money would be no object" in the drive to restore normal life to flood-hit towns and villages and vowed the Government would "go after" insurance companies which failed to pay out to householders whose properties had been wrecked.
Risking claims that the Government is rewarding the reckless, he said people without insurance would be entitled to emergency help to repair their homes through "hardship funds".

He said: "That is where every local authority affected needs to have a hardship fund, and if there is a need to top up those hardship funds then they can come to us and we can have a look at that."
Some 1000 properties, including 800 along the Thames, have been flooded in recent days, with thousands more at risk. Attention is also focusing on properties alongside the Severn and Wye where waters are rising rapidly. Large sections of Worcester, which is on the Severn, were under water.
Calling for a "great national effort" to respond to the emergency, Cameron said thousands more troops could be drafted in to bolster flood defences and protect homes, businesses and power supplies.

But with yet more rain forecast today in southern England and Wales, he conceded it would take a "depressingly long period of time" for affected areas to return to normal.
"There's absolutely no sign of this threat abating. "Things may well get worse before they get better. It will be a long haul and it will require a stepped-up national effort with the whole country pulling together."
Cameron said homeowners would be given taxpayer-funded grants to build flood protection measures around their properties.
The Prime Minister tore up his schedule over the past 48 hours, including postponing a planned Cabinet meeting, to take charge of the response to the emergency following accusations that ministers were too slow to react to the flooding.

He announced he was cancelling a planned visit to the Middle East next week to focus on the crisis. Further rainfall is expected today in the South-west of England and across Wales, along with winds that could reach up to 130km/h. In addition, groundwater could turn to ice as temperatures drop.
Sixteen severe flood warnings were in place, 14 along the Thames and another two in the Somerset Levels. The Environment Agency has also announced 133 flood warnings and 225 flood alerts.
In some parts of England the water table has reached record levels following the extreme rainfall in recent weeks and ancient buried rivers could start to flow, causing flooding in communities which are far from major rivers. The British Geological Survey said parts of the Thames Valley in Wiltshire, Oxfordshire and Berkshire were at risk of localised flooding until May.
Andrew McKenzie, a water expert with the survey, said: "What we saw [in the floods] of 2000-2001 was groundwater flooding persisting well into the spring and the last remnants of groundwater flooding finished in about May of 2001. So we certainly are expecting to see many more months of groundwater issues."
Hundreds of troops have been deployed to help residents flooded out of their homes. Independent