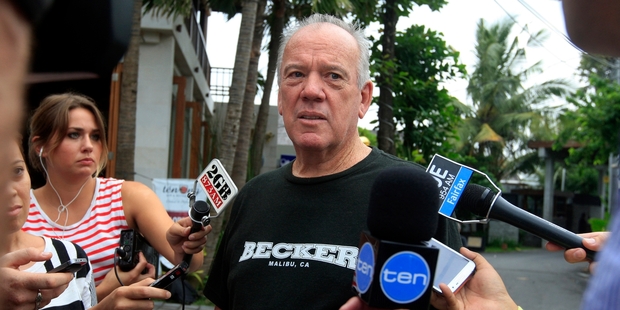 An Indonesian cameraman has made a complaint to police alleging that vans carrying Schapelle Corby's entourage twice hit his motorbike.
Bali-based freelancer Daniel Herry says the first van hit his bike as he tried to leave the Bali corrections office, known as Bapas, on Monday.
A small fleet of luxury mini-vans were removing Corby and her entourage from a chaotic media scrum that had formed for the convicted drug smuggler's departure from Kerobokan prison. Herry said yesterday that he was just trying to exit Bapas when the driver of Corby's van swore at him and hit his bike.
"I was terrified, I did not expect it ... in Bali, the biggest [vehicles] have to wait until the motorbikes pass. Why would he do that? I was not blocking him. I was trying to get away."
Herry says he was hit again by one of the vans when he reached the front gates of the Sentosa villas, where Corby was taken. He said the van's back bumper fell off after making contact with his bike.
The Alliance of Independent Journalists (AJI) said the Corby case raised important issues for Indonesian reporters. Rofiqi Hasan, chairman of AJI Denpasar, said he is concerned about efforts to hinder journalists at work.
Media coverage of Corby's release was already under scrutiny with confirmation the Seven Network is courting her for a paid interview.
Seven Network presenter David Koch slammed his employer over reports it agreed to pay Schapelle Corby at least A$2 million ($2.17 million) for an exclusive interview.
But his anger may be premature, with colleague Mike Willesee dismissing as "way silly" any suggestion that Seven would pay so much to talk to the convicted drug smuggler.
"I don't know what the figure is but I know that that's crazy," Willesee said.
"It's not up there at all.
"Everyone is entitled to their opinion, but all I know is the published figures are way silly. They're false."
Willesee told reporters in Bali that he does not expect any interview to take place for a while, adding that he has not even seen Corby despite staying in the same luxury resort.
"It's not a sure thing and it's not a close thing," he said.
Koch had said Seven should not speak to Corby to avoid sensationalising the drug smuggler. "I reckon we should have nothing to do with her as a network," he said. "Totally disagree with paying a convicted drug smuggler A$2 million."
- AAP