Changing winds add to firefighters' difficulties north of Melbourne.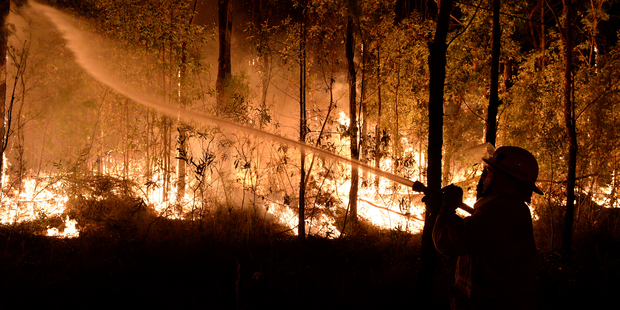 Seven more houses have been damaged and two Victorian towns remain in danger as an out-of-control bushfire continues to burn north of Melbourne.
Houses in Wallan and Kilmore are believed to have been destroyed yesterday and the fire now has two fronts, authorities say.
The fire, which stretches for 50km, has burned more than 20,000ha and is expected to get bigger.
Victorian Fire Services Commissioner Craig Lapsley said authorities were unable to get a solid containment line around the full area of the fire.
"We have had wind speeds that have gone both ways so it has moved both east and west and it has certainly got significant pressure on Wallan and Kilmore," he told ABC Radio.
"It is already in the 20,000-plus hectares burned and will get bigger.
"It is a place that is well populated with both communities at Wallan, Kilmore and the surrounding area."
Lapsley said 19 aircraft and 200 trucks are fighting the fire. Emergency warnings remain in place for Wallan, Kilmore, Kilmore East, Darraweit Guim, Bylands and Willowmavin.
Victoria's FireReady app has become Australia's most popular free app as residents turn to the state's digital warning system for bushfire information.
Nearly half a million Victorians have downloaded it since its launch on December 16 last year. The state Government spent A$3 million ($3.25 million) to develop and test the app and VicEmergency website.
- AAP