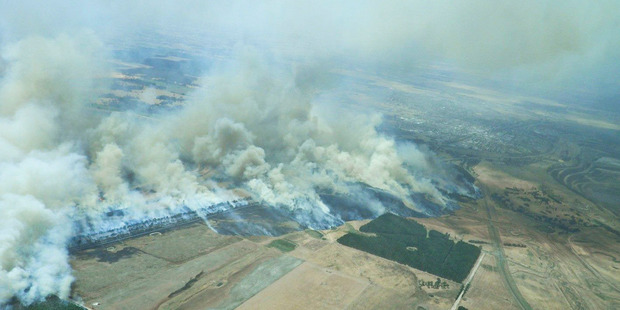 Despite cooler weather and huge defence by more than 6000 firefighters, Victoria was still struggling to bring huge fronts under control as darkness fell last night.
So far at least 26 homes have been lost but there have been no deaths and only one serious injury reported since the state erupted into flames over the weekend in its worst bushfire crisis since the 2009 Black Saturday disaster.
No final count of the toll will be made for days, but it will include a winery, damage to businesses, farm sheds and other buildings, hundreds of kilometres of fencing, thousands of hectares of farmland and bush, and livestock losses.
Late yesterday, 28 fires were still burning out of control, the most serious near Mickleham on the northern fringes of Melbourne. During Sunday night the main blaze joined others to form a front 40km wide.
In the industrialised LaTrobe Valley, which supplies 85 per cent of Victoria's electricity, fire burned 2km deep into an open cut coal mine at Hazelwood, near Morwell, about 150km from Melbourne.
Firefighters were struggling to combat the fire as it burned deeper into the mine yesterday.
"It is really challenging for firefighters to go in there and combat it because it burns very intensely and quite deep within the coal and as they pull the coal apart and give more oxygen to the fire, it actually burns more intensely," Country Fire Authority state duty officer Brett Boatman told ABC radio.
There were fears flames would also reach the nearby 1600-megawatt Hazelwood power station but yesterday it was no longer under threat.
However, power supplies have been disrupted by fires in a number of regions, roads have been closed, rail services shut down, schools closed and hundreds of people evacuated. Emergency and recovery centres have been set up to help evacuees.
Arson is suspected in a number of the fires.
The fire running north from Mickleham has spread through areas including Kilmore, where 20 homes are reported to have been lost, Wallan and Forbes, where stunned residents gave the ABC accounts of the ferocity and speed of the front.
One, identifying himself only as Peter, was trapped in his home and thought he was going to die as a "massive wall of fire" swept up a gully towards Forbes.
"I really didn't think I was going to make it but, luckily, in our case the fire spread around our house and shed," he said. "It went either side of us and then for a good five or 10 minutes I thought 'this is it'."
Local farmer Peter Marzorini took shelter in cattle sheds: "I took my cattle and the dog and me and 1000 litres of water and watched one fire go past. The cattle yards are steel so I was protected from radiant heat."
Another local said her property was saved by several fire trucks circling her sheds: "When that fire came up over the gorge it was like the whole world was alight."
In Warrandyte, on Melbourne's northern outskirts, Tom Amicucci saw a neighbour's house destroyed: "It just seemed to rage in seconds ... And then, within seconds, the wind just turned and it went up northerly and it went straight up, straight up through this house."
Residents' tales
Robert Evans: His house survived
"I have seen a little bit of smoke going over the back of my neighbour's house and then the power pole directly above his house exploded. Massive bang again, same as the other bang and massive flames and within 30 seconds while we were still standing there, there was flames probably a metre above his roof.''
Brenda Ireland: Lost her home
"As we were driving down our driveway, which is about 50m long, a huge ball of flames was just rushing across our backyard. Ball of fire. We've got wonderful neighbours and they all survived so that is the main thing. We can build a new house. So sad.''
Jamie Conlon: Ran for his life
"I just saw the end [of his driveway] and that's where I was going. I didn't stop to look. I just sprinted. I thought I was dead. I was just screaming. I was terrified.'
- AAP