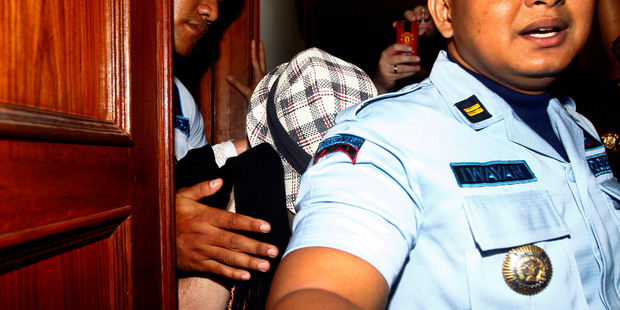 Celebrations are in full swing at the suburban Queensland home of Schapelle Corby's mother Rosleigh Rose.
Cheers, yells and the sound of popping corks could be heard coming from the backyard of the family home at Loganlea, south of Brisbane.
Rose has taped off the entry to her front door and boarded up her windows. A clearly delighted Rose made a brief appearance outside to pop a champagne cork in front of the media, but did not speak.
Family friends and well-wishers have been making their way in and out.
Corby's half-brother James Kisina left the home about midday drinking a celebratory beer with a friend. The pair returned about an hour later with party supplies - a bottle of bourbon, a two-litre bottle of coke and a carton of beer.
"I'm speechless," Kisina said of his sister's release. "I'm just going to go party, hey."
Kisina said he did not know what he would say to his sister when he eventually saw her, but would be giving her a hug.
A family friend said the family was braced for the intense media interest. "It's going to be worse than Lady Di, everywhere she goes, any time she scratches her bum or anything, someone will have a picture," he said before leaving on his motorbike. "She'll cope."
The visitor described Schapelle as "very nice, like her mum". The man, who said he'd known Rose for 42 years, said he expected her to go to Bali to visit her daughter. "I think she'd go totally to pieces if she went over there - one, because of the circus over there, and that'd tear her apart more than anything and I think Schapelle realises that."
After Corby's release yesterday, she had to fulfil official requirements, going to the prosecutor's office and then to the corrections office, known as Bapas. "We asked her about her condition and she once cried, saying she's still in trauma over the journalists," said Agung Bagus Kusimantara, head of the Intelligence Section in Denpasar's Prosecutions Office.
Ketut Artha, the head of Bapas, said officials met Corby, with her guarantor, brother-in-law Wayan Widyartha, for about 20 minutes.
He advised her to calm herself, be kind and not violate the conditions of her parole, which will see her live with Wayan and her sister Mercedes in Kuta until 2017.
- AAP